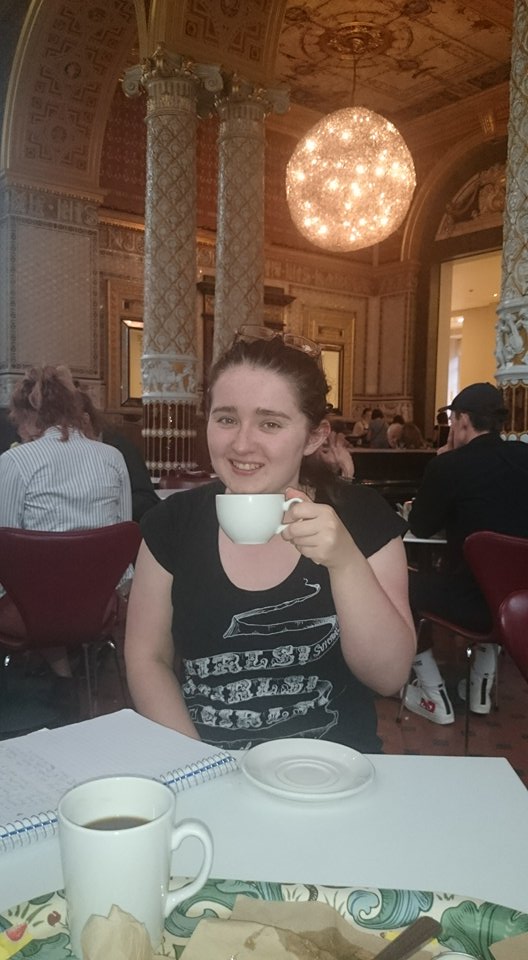 I wonder how I should start this… Hello, I guess? I am on a quest to find out the meaning of the blog. What is it to blog? What does it mean? Is it just talking fluff about yourself or is there some deeper meaning?
But "who are you?" I hear you ask. And "what are you doing on the Diary Of A Young Writer?" My name is Jen Hughes. I'm not your conventional blogger, and the more you read of me, the more you'll know why. I hope to be a novelist, create and write some great films and TV shows- maybe the odd Doctor Who episode or series- and make poetry cool again. I say 'I hope' because I've only ever completed one novel, forgotten how to write scripts and, well, there are already people out there making poetry 'cool'.  I just want to be one of those people.
I wrote a whole big memoir piece about my writer's mind, so I won't go into that again. I'm also going to study English Literature and Film at university, so I expect to have some anecdotes to share with you whether you want to hear them or not. But that wasn't where my days of talking fluff about myself began.
2010/2011
I was in first year at secondary school. I was becoming a teenager faster than you could even say the word. Instead of being the kind of teenager who had a social life, I spent most of my time writing. At this stage it was ideas for teen romance novels, Young Adult fiction, terrible song lyrics and lots and lots of diary entries and lists. The lists weren't part of my actual writing, but more an opportunity to dream about my future, write down my notions and feelings. I didn't see the significance of them at the time, and especially after I realised I didn't have the drive to realise the goals I wrote down.
2015
I'm in my final year at school and dating some man I met on a dating site. He suggests that I start a blog, as that's what writers do right? Maybe he noticed the fact that I was hitting a major bout of creative block. My brain went from a hive of buzzing bees to a void over the course of a couple of months. I did attempt a 'Facts About Me' post, which I knew wouldn't do anything because I didn't feel it was serious writing. It wasn't that fun to read and I felt pretentious even considering posting it (not that I knew where to post it on), so I dropped the notion and got on with my studies.
2017
I'd been knocked out of my work schedule by a horrible chest infection and have spent the past three weeks trying to shake it off, without much progress. I've had a website set up on WordPress since June last year, and I was posting a weekly stream of flash fictions and the odd poem. I was also managing to have some of my works, such as short stories, published on online magazines and journals. Sadly, combining ill health with a six-day work schedule meant that I had no time or energy to even think creatively, let alone write another flash fiction. I needed to apologise to the (very few) people who actively followed my work and give them an idea of my plight.
Thus, my first somewhat readable blog post was born – Down With The Sickness. I thought it was hilariously appropriate to use a heavy metal song by Disturbed as my title. Not just because of the title summing up my life at that point, but sometimes the vocals sounded like my actual coughs. (Yep my chest infection was that bad.) Besides, if you don't laugh you'll cry, right?
But I didn't catch the blogging bug until I wrote a reflective piece about being a teenager – 11 Life Lessons from my Thirteen Year Old self. I mentioned earlier that I wrote lists when I was younger and didn't really think much of them, but I looked at this one that I'd totally forgotten I'd written, and thought 'Gosh, she has some points."  I wanted to keep it as relatable as possible. We've all been teenagers at one point. I also wanted to structure it in headers for each lesson, to make it easier to read. After all, the more relatable it is, the more people want to read it, right?
So I hope that I can add to Diary of A Young Writer with my own experiences and learning processes. And who knows, maybe someone out there can benefit from them.
 Jen Hughes will be a regular contributor to Diary of A Writer's Blog. She is a young writer from Ayrshire, Scotland who has been writing since she was seven. Her work has been published on a variety of online journals and magazines such as the McStorytellers, Minus Paper, Oletangy Review and Pulp Metal Magazine to name a few.
If you're liking what you see so far, you can find more of her work in the links in the article/down below and on her website dearoctopuswriting.wordpress.com. (Her website is full of original short stories, poems and flash fictions.) You can also follow her on Twitter (@dearoctopus4) or Tumblr https://dearoctopuswriting.tumblr.com/  or give her a like on Facebook (Dear octopus writing).