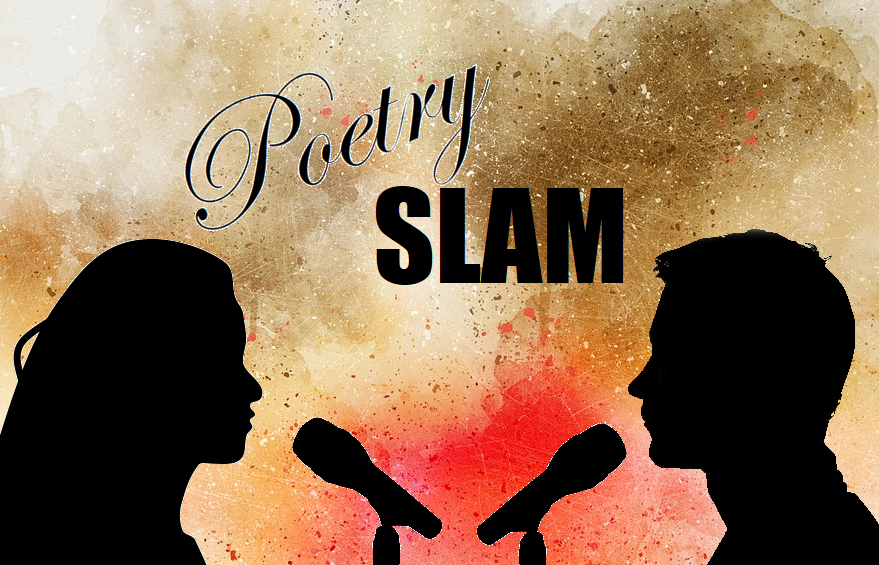 The opportunity ambushed me, in a way. A dear poet friend of mine, Gayle Smith, needed another member for her team in the Greater Glasgow slam, and I had offered myself. Three days before the slam was to start, I thought 'might as well'. You could read from a sheet of paper, notebook or folder, so it wasn't too far off what I'd done already, right? All I needed to do was choose.  But really, I didn't know what to expect.
Most of my audience was middle aged, so I assumed my Burns pastiche "Tae A Fermer" would go down well. It was a tried and tested cracker, so why wouldn't it work this time? Well, what I found was a lot of the poems read out were angry or packed a punch. The mouse's comedic anger at having his house knocked down by a plough just didn't pack enough punch, compared to some very angry poets being angry about actual things that had happened to them. It didn't quite land how I wanted it. It wasn't quite sharp enough, or long enough for a slam. Despite it, my team scored well in that first round. It must not have been that bad, then.
As I listened to the other poets perform their stuff, I tried to pick a good second poem. I was stuck between "F*** Today", a comically angry poem about a bad day- a safe choice, which generally gets a lot of laughs, and a feminist angry poem, "Lucy Speaks". I'd never read "Lucy Speaks" before, so it would have been a major gamble. In this instance, I'd gone completely against my own advice– choosing my setlist at the last minute. My excuse was I'd wanted to gauge the audience before picking out my pieces, because I didn't know what kind of thing they would be expecting. I probably should have asked, but they do say hindsight has 20/20 vision.
In the end, I went for the safe option, "F*** Today". It's relatable- everyone has had, at one point, one of those days, and was just long and angry enough to work well for a slam. And by God did I pour all my fury into reciting it. I think it paid off as my team scored highly again.
Not high enough to get us into the final, though.
We lost out by just one point.
That stung.
I'm an incredibly competitive person. I should have been used to losing from all the sports days, gala poster competitions, writing competitions and boyfriends that I had lost over my younger years, but losing still gets to me. It's a natural reaction. I want to do well. I want to be the best, or at least the best I can be. When I lose at something, the inevitable fact that I'm not always going to be the best at everything hits my ego. My resentment couldn't help but simmer as I watched the other teams compete in the final. I think I hid it quite well, by praising the other poets- praise I did sincerely mean by the way, but I was a pretty sore loser.
While performing in an open mic event, everyone is good in their own way, or at least I can tell myself that because you're not being actively compared to one another. In a slam you don't have that luxury. There are judges comparing you to the other performers. So you need to steel up a bit. Even in a nice, fun slam like the Greater Glasgow, someone will choose the 'best one', or the 'best team'. Because I like to be the best, it's a bummer to have that illusion shattered.
Despite our team's lack of success, Gayle was beaming.
She said that our team had earned a much higher score (by about 70 points) than another time that Gayle's team had managed to get into the final and win. She told me how proud she was of me, and how I'd given a really good performance.
Sadly, at that time, I couldn't share her joy. All I could think about was how we lost that slam. How the other poets performed better than us. All I could do was compare myself to every other performer in the room. All I could think about was that one point that separated our team from a chance in the final.
After saying cordial goodbyes to my fellow poets, I skulked off to Pizza Hut with my boyfriend, grumbling at what I did wrong, hoping he would soothe my sore ego. Thankfully, after stuffing my face with food, I got over myself and had a plan for next time:
Have a setlist. Learn your setlist. Perform your stuff at slams, don't recite it. Record what poems work where.
Slams are best done when you've performed at a few things and gotten your confidence up for it. If you think your ego is going to have a nice boost with a slam, you will be setting yourself up for disappointment. Even one with as nice an atmosphere as the Greater Glasgow Slam, you're better going in without expectations of winning or getting into a final. Do aim for that, but don't place all your hopes and your whole ego on the line for it. I don't recommend you test out your new stuff at a slam or make a slam one of your first times reading out a poem. Test out your setlist somewhere else first, to see how it lands. If you've read this article and thought, "This whole slam thing sounds like an ordeal, no thanks!" then maybe you're not ready yet. You need time to bloom first, and that's okay. However, what I will say is that putting yourself up for slams will help you get your name out. For example, the Button poets have been successful in slams and it is arguably where they get their distinct performance styles from. A lot of poets like Neil Hilborn and Sabrina Benaim have had world tours, and Ruby Francisco has performed his poetry on The Tonight Show Starring Jimmy Fallon. If you've not seen some of these guys, they are incredible, there's a link in there.
As for me, I'm not one to quit at the first hurdle so I do want to give a slam another go before I decide whether or not they're for me. Some poets thrive in slams, whereas others don't. This isn't a measure of your worth as a writer, as many people have become successful writers without them. I was probably ready to compete in slams, as I've gained a lot of confidence from performing in spoken word events and open mics. But that day I wasn't adequately prepared. I'd been an audience member going to see slams before, but that's not the same as competing in one. Could I have been prepared then?
Or was this slam just preparation for the next one? Hopefully after my exams, I will find out!
Thanks so much to Robin Cairns and Gayle Smith for such an amazing opportunity!
Robin hosts a monthly event Last Mondays At Waterstones, at the Sauchiehall Street Waterstone's branch on the last Monday of every month. You'll be seeing me there for a wee performance in May.
Gayle runs another open mic Words and Music (Tinhut Tuesdays) with, as the name suggests, is open to spoken word poets and musicians on the first Tuesday of every month. 18+ only unfortunately!
If you're a poet or storywriter based in or visiting Glasgow wanting to perform your work then these are  two events definitely worth checking out.
Jen Hughes is a writer from Ayrshire, Scotland. She has been furiously scribbling ideas and writing elaborate stories from as early as age seven. When it comes to blogging, she hopes to make up for her lack of experience with enthusiasm (which seems to be how she approaches most jobs, funnily enough). It's a learning journey and, in the spirit of the blogger, she'll be documenting as much of it as possible in her monthly entries. In her fiction and poetry, she has been published in a wide variety of online journals and magazines such as the Pulp Metal Magazine, Idle Ink, McStorytellers and Ogilvie Press; as well as having read out at various open mic and spoken word events in her area. Her up-to-date portfolio of short stories, flash fictions and poems can be found on her website jenhugheswriter.com. Jen is currently studying English Literature and Film &TV Studies in Glasgow.
Facebook: https://www.facebook.com/dearoctopuswriting/
Twitter: @dearoctopus4