Have you finished your Christmas shopping yet?
Are you still searching for last minute gifts?
Have you just found out that your great aunt from Australia is coming over to spend Christmas with the family?
Fear not, I have some book recommendations for you for all ages and genders, but you may need to pop down to your local bookshop to find them. As always I've spent the last few months watching what the customers have been buying at the bookshop and keeping an eye on all the bestseller lists.
For the little ones this year, I recommend Paddington And The Christmas Surprise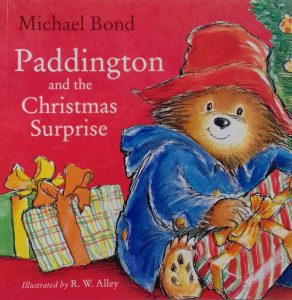 by Michael Bond. With its beautiful, festive illustrations and humorous storyline set in a department store and a Santa's Grotto. This is a must have if you need to get a present for a little one, copies at the bookshop sold out within days and we had to order more!
Paddington bear is a popular and well-loved fictional character who first appeared in October 1958 in a children's book 'A Bear Called Paddington'. He has featured in more than twenty books written by British author Michael Bond, and a soft toy Paddington was chosen by British tunnellers as the first item to pass through to their French counterparts on the completion of the Channel Tunnel in 1994.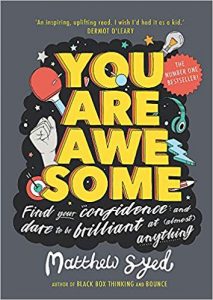 For the older children I recommend You Are Awesome by Matthew Syed.  A book which aims to empower young readers using examples of successful people like Mozart and Serena Williams. This book promotes hard work, determination, practise and self-belief to give readers the encouragement and confidence to achieve their dreams and master new skills.
Matthew Syed became the British table tennis number one in 1995. He has also been a sports journalist and has won the Best New Writer award for his book 'Bounce'. He is the co-founder of the Greenhouse charity 'which empowers young people through sport'. Despite his achievements he has not always been successful and openly admits that he fell apart under the pressure of the 2000 Olympics in Sydney. His experiences led him to learn more about the mind and how to cope with stress, and he believes that having a good mindset is crucial for success and happiness.
Teenagers are always tricky so I have picked out two for this category, 'The Hobbit by J. R. R. Tolkien', and 'The Lightning Thief by Rick Riordan'.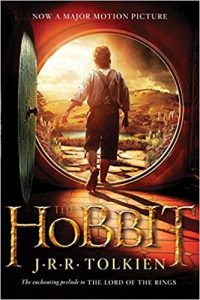 The Hobbit is probably the only book that I can guarantee even the pickiest of readers will enjoy. It is the best book to use to encourage teenagers to read more books. It is a fantasy story set in the mythical world of Middle Earth, and follows the cautious, home-loving hobbit Bilbo Baggins as he embarks on an adventure with thirteen dwarves to win back their home and a share of the treasure guarded by the dragon, Smaug. It is written in an easy to read format with plenty of action to keep you hooked throughout.
'J. R. R. Tolkien was a British writer, poet, philologist and university professor who is best known as the author of the classic high fantasy works The Hobbit, The Lord of the Rings and The Silmarillion.' Tolkien served in both the first and second world wars but it was his interest in languages, particularly creating new languages,  myths and folklore, which really became the inspiration for his books.

The Lightning Thief is the first book in Rick Riordan's 'Percy Jackson And The Olympians' five book series. It is an American-fantasy novel based on Greek Mythology, and judging by the amount of requests we have for it in the bookshop, pretty popular too. The story follows Percy Jackson, a demigod, as he embarks on a quest to find Zeus's stolen lightning bolt and prevent a war between the gods. It is fast-paced, funny and full of action, and the Gods and Goddesses of Ancient Greece have been wonderfully updated to the 21st Century.
Rick Riordan is an American author and has written dozens of novels and graphic novels. He has won thirteen awards for his work and before he was an author, he originally wanted to be a guitarist. The idea of Percy Jackson came to him whilst he was inventing bedtime stories for his son Haley.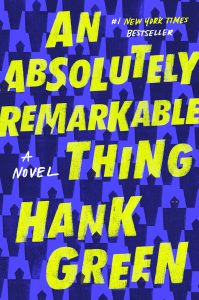 For the Older Teens and Young Adults I recommend An Absolutely Remarkable Thing by Hank Green and Unwinding Time by James Stoddah.
Hank Green's debut novel 'An Absolutely Remarkable Thing' was published just this year in September 2018. The story follows April May who discovers a strange robot sculpture in Midtown Manhattan and she decides to film it and post it online. The video goes viral overnight turning April into a celebrity and all over the world, identical sculptures have turned up in major cities at the exact same time. It is an intriguing blend of humour, mystery and science-fiction and takes an in-depth look at the pros and cons of fame.
Hank Green is an American author, entrepreneur, musician, educator, producer and vlogger. He is best known for his YouTube channel Vlogbrothers, where he and his brother John Green post regular videos. He co-created VidCon, the world's largest conference about online videos. The two brothers are regularly involved with posting and writing educational videos on YouTube, and they raise money for charities every year with their annual 'Project For Awesome' event.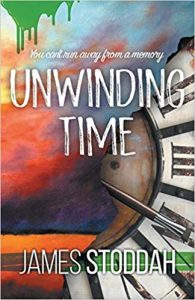 'Unwinding Time' follows the story of Kayleigh Halsey as she moves to the Lake District trying to escape the trauma of her past. Inside an old wages cupboard she discovers something strange which sets her on the path of a centuries old mystery involving a bitter family feud. Kayleigh and her friends navigate the tricky roads of friendship, love and forgiveness as they come together to solve the mystery, but they find more that what they bargained for. This book delicately covers themes of Asexuality and death.
James Stoddah is a British author fascinated by mystery. The inspiration for his stories came from inventing games for his children as they were growing up. He has previously worked in the music industry as a successful writer-performer and now lives in Lancashire.
For the Adults who love fiction it's got to be Eleanor Oliphant is Completely Fine by Gail Honeyman or the crime, thriller & mystery, The Retreat by Mark Edwards.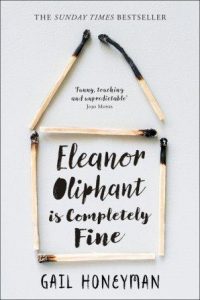 I've talked about this book before, 'Eleanor Oliphant is Completely Fine' has spent many weeks in Amazon's bestseller charts and won the 2018 Costa Debut Novel Award. It is a humorous story with a sad underlying tale which follows Eleanor Oliphant with her regimental lifestyle as she rediscovers her past and learns about the true meaning of love. This is no soppy romance, it is a thoughtful story covering topics such as mental health, relationships and death.
Gail Honeyman is a Scottish writer, who after working in a number of jobs, enrolled in a Faber Writing Course where she first developed Eleanor Oliphant is Completely Fine. She admits to being a voracious reader and studied French language and literature at Glasgow University. Eleanor Oliphant was met with critical acclaim and won many awards.
The Retreat by Mark Edwards is a Psychological, Crime, Thriller & Mystery.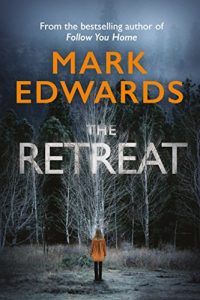 It follows the story of Julia who lost her husband and daughter, Lily, in a tragic accident, but Lily's body was never found. Julia believes that Lily might still be alive and when Lucas, a horror writer, comes to stay at her house, the pair of them try to find out what really happened to Julia's family. They are led into the woods where they discover a dark secret.
Mark is a British writer who writes psychological thrillers. He has been inspired by writers such as Stephen King and Linwood Barclay. He has worked in a number of jobs and started writing in his twenties. After living in Tokyo for a year he returned to the U.K. and started a career in marketing. Now he writes full-time and lives in the West Midlands, England with his family.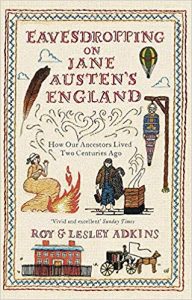 For those who love Jane Austen, I recommend Eavesdropping on Jane Austen's England by Lesley and Roy Adkins. This history and social culture book has been flying out of the bookshop where I work. It explores the real England which Jane Austen grew up and lived in and reveals all of the horrifying truths and bizarre ideas of the time. It examines the lives of the ordinary people and excerpts of Jane Austen's personal writings are also included.
Lesley and Roy Adkins are historians and archaeologists who have written many non-fictions books on social and naval history, archaeology, and the ancient world. Their books have been translated into several languages and they live in Devon.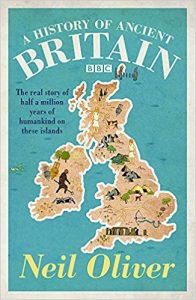 For the history lovers, I recommend A History of Ancient Britain by Neil Oliver. This easy-to-read history book explores the early inhabitants of Britain and how they survived, spanning half a million years up until the Roman Empire. Discover Britain as you never have before and find out why the Orkney Islands were so important to our early ancestors.
'Neil Oliver is a Scottish archaeologist, historian, broadcaster and writer who has become widely known as the presenter of BBC television's flagship ten part series 'A History of Scotland'. He lives in Stirling with his family.' He has also written 'A History Of Scotland' and 'Vikings' and several other books.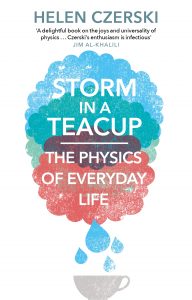 For the science buffs, I recommend Storm In A Teacup by Helen Czerksi. This book explains how even the grandest theories in Physics can be found in ordinary objects and experiences. Helen explains physics in an easy to understand language and shows how physics is relevant in everyday life. This book is physics without all the complicated equations.
Helen Cserski is a part-time BBC presenter and full-time lecturer in the Mechanical Engineering department at University College London. She is also a columnist for Focus Magazine. She was born in Manchester and now lives in London.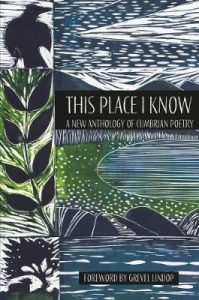 For that one person who likes to read poetry, I recommend This Place I Know: A New Anthology of Cumbrian Poetry, edited by Liz Nuttall, Kerry Darbishire and Kim Moore. It is another firm favourite at the bookshop and it contains poetry from established poets and newly emerging poets. It is a contemporary collection bringing Cumbrian poetry into the 21st Century. Published just this year in October, it is a beautiful book with beautiful poetry.
Contributors to this anthology include: Jacob Polley, Helen Mort, Kathleen Jones, Simon Armitage, Judy Brown, Kim Moore, Kerry Darbishire, Neil Curry, Tom Pickard, Emma McGordon, Christopher Pilling, Pauline Yarwood, Angela Locke, Polly Atkin, M.R. Peacocke, Josephine Dickinson, Karen Lloyd, Helen Farish, Patricia Pogson, Katie Hale and more.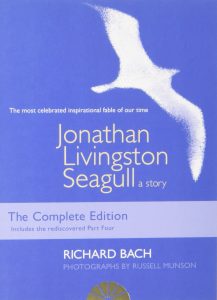 And finally, for those who might like something more philosophical, I recommend Jonathan Livingston Seagull by Richard Bach. Split into four parts, this novella is a timeless classic and fable telling the story of a seagull who discovers the meaning of life and flight. Although it is fiction there are many spiritual undertones and the overall story encourages reaching for a higher purpose in life, even if others disagree with you. It is also about finding the meaning of love and kindness in order to reach a state of transcendence.
'Richard Bach is an American author. He has written many works of fiction and non-fiction flight-related titles. Most of Bach's books have been semi-autobiographical, using actual or fictionalized events from his life to illustrate his philosophy that our apparent physical limits and mortality are merely appearance.' Jonathon Livingston Seagull was rejected several times before being picked up by a publisher and since then it has had much success. Bach now lives in Illinois with his family.
That's it from me for now, as I mentioned at the beginning of this blog, you will probably have to pop down to your local bookshop in order to find these books now. Or if you have Amazon Prime you may be able to order these books online before Christmas.