1) She Never Got To Say Goodbye by Ica Iova
A Paranormal Fantasy and Thriller with a splash of Romance. She Never Got To Say Goodbye follows the lives of Olivia an aspiring lawyer, and Brandon the already established lawyer. The story starts off fairly normally, Olivia and Brandon coincidently meet at a restaurant, start talking and then later fall in love, marry and have a child. However, that is where the 'normal' ends. After a particularly bad case, Brandon ends up falling into a spiral of guilt and depression, turning to drinks and drugs in an attempt to drown his sorrows. Brandon's addictions drive a wedge in his relationship with Olivia, and after a drunken argument, Brandon wakes up on the floor of his home to find that his wife has been murdered. Olivia returns as a ghost, and with little recollection from both sides as to what actually happened the night of her murder, she immediately blames Brandon. Furious that Brandon could do such a thing, Olivia is hell bent on making Brandon's life as difficult as possible. However, as time goes on and Brandon is cleared of murder, Olivia is left wondering about who murdered her and why?
Beautifully written with humour and heartbreak, this is a story with many twists and turns, and although the murderer is easy to spot, this story will still surprise you.
Amazon: Kindle Ed, £2.12. Paperback, £8.99.

2) The Rest Of Us Just Live Here by Patrick Ness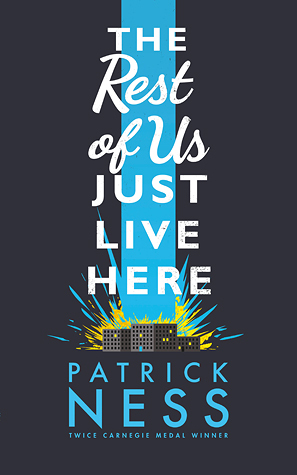 Weird but brilliant, The Rest Of Us Just Live Here is a quirky coming of age story. Focusing on the minor characters and their lives rather than the main characters (aka The Indie Kids), Patrick Ness has managed to write a compelling story from a completely different viewpoint. The story follows the life of Mikey and his friends, who in normal fiction would be the background characters, yet they catch glimpses of the 'heroes' who are out there saving the world. Cleverly written and packed with humour, Mikey and his friends just want to make it to prom and graduation. Despite Mikey's OCD's and his unrequited love for his friend Henna, he just wants the last few weeks of school to run as smoothing as possible. However, not everything is as 'normal' as it appears. One of Mikey's friends happens to be a demi-god, a new kid called Nathan appears to be a former indie kid, and a car accident involving a deer leaves Mikey both battered and confused. Will he ever conquer his OCD's? Will Henna return his love? and which indie-kid will save the world this time?
A must read for anyone who is looking for something a bit different.
Amazon; Kindle Ed, £4.99, Hardcover £9.09.

3) Message Bearer  by M.S. Dobing
A Paranormal, Urban Fantasy with plenty of Mystery and Thriller thrown into the mix. Message Bearer combines the real world with magic and multiple mythologies in one action-packed adventure. This story centers around a young, homeless man called Seb, who ends up crossing the path of a woman and a terrifying creature. Unfortunately for Seb, the woman gives him a hidden message just before she dies, which makes Seb the creature's new target. Seb is thrown into a world of magic and daemons where he discovers his own hidden magical talents and a secret magical world. Seb is not welcomed with open arms and is only tolerated because he is the only one who can reveal the secrets of the hidden message. As more daemons appear and the fabric of reality starts to break down, it is race against time for Seb to break open the hidden message. However, the bad guys and good guys have mixed motives, leaving you wondering who is truly good and who is truly bad? Will Seb be able to uncover the secrets of the hidden message in time to save the world?
A must read for those who love action-packed adventures, and/or are interested in mythologies. Another extra addtion, this story is set in the North-West of England with references to real places.
Amazon UK: Kindle Ed, £0.99. Paperback, £8.99. Amazon US: Kindle Ed, $1.43. Paperback $11.99.

4) The Ghost Bride by Yangsze Choo
Beautifully written and historically educating. If you love Hayao Miyazaki's Spirited Away, you will love The Ghost Bride by Yangsze Choo.
Set just a little before modern times, The Ghost Bride follows the story of Li Lan. Since the death of her mother, Li Lan's father has amassed debts and lost most of their former wealth. Li Lan's father is then approached with an unsual but not unheard of proposal. Li Lan is asked to marry the recently deceased and wealthy heir of the Lim family, in complice with ancient chinese traditions and in order to satisfy and honour the spirits of the dead. However, Li Lan is understandably a little hesistant. The idea is outdated and she doesn't want to tie the rest of her life to a ghost, despite the fact that the Lim family's wealth would help her father. When the Lim's deceased heir starts to torment her dreams, Li Lan accidently slips into the spirit world where she uncovers some terrible secrets about the Lim family, and where she meets the mysterious Er Lang. Can Li Lan find the truth and avoid her marriage, and can she escape the spirit world and return to her body in time?
UK Amazon: Kindle, £2.63.  Paperback, £7.99.
5) Wild-Born by Adrian Howell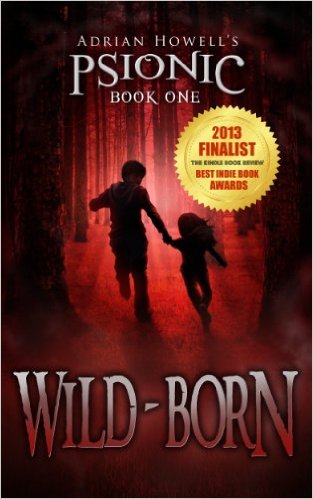 A more sinister Paranormal and Urban Fantasy, this story is definitely not for the faint-hearted.
Wild-Born follows the life of Adrian Howell (also the author's pen name), a young teenager who discovers he has telekinetic powers. When Adrian is attacked and kidnapped, he is plunged into a brutal world with complex governments and waring groups (factions). Adrian discovers he is a psionic and that there are many psionic's like himself. He escapes his captor and is rescued by another psionic, Cindy, who gives him a home and introduces him to a young, psionic girl called Alia. It is not long before the trio are discovered, and Adrian is captured again, along with his new little sister Alia. They are taken to a government, underground facility, where other psionics are being held and experimented on. Adrian and Alia are forced into making tough decisions that even adults would struggle with, as well as dealing with dark and sinister elements of the real world. Will they be able to hold out whilst Cindy tries to bring together a team to rescue them?
Wild-Born is unique in the way that you experience this world through the eyes of two youngsters and not older teenagers or adults. Despite being a bit sinister at times, there is still plently of action and humour throughout. Wild-Born is a more mature read and makes refence to some sensitive topics, if you are ok with this, then you will find it easy to devour these error-free pages.
Amazon: Kindle Ed, free. Paperback £8.07.
6) Anomaly (The Soul Prophecies) by Caitlin Lynagh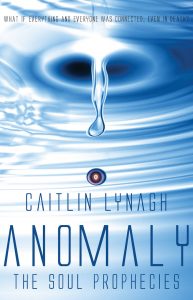 A Paranormal Fantasy about life and death.
Anomaly follows the story of Kyle Hunter, a business undergraduate at Red Oak University, and Alice Lynam, a recently deceased soul.
At the start of Kyle's second year, and two years since the death of his childhood sweetheart, Kyle is trying his best to move on from Alice and get on with his life. However, unbeknown to Kyle, Alice is still around, and she has been watching him closely. Alice knows that her death prompted Kyle to give up his aspirations as a physicist and to follow his father's dream to follow a business career instead, but Kyle along with the majority of the living are more important than they realise. Every decision that each person makes, from something small like a smile to something major like a scientific discovery, causes fluctuations in the future, and not all of them are good or positive. Armed with the knowledge of the afterlife, a book she left behind, and the memories from an ancient and extra-terrestial prophet, Alice needs to find a way through to Kyle and reawaken his old ambitions and dreams, if she fails, then the future for humanity could be lost forever.
A story that will resonate with all young people feeling the pressure of society's expectations as they embark on their journey into adulthood.
Kindle ed: £2.99, Paperback £9.99.