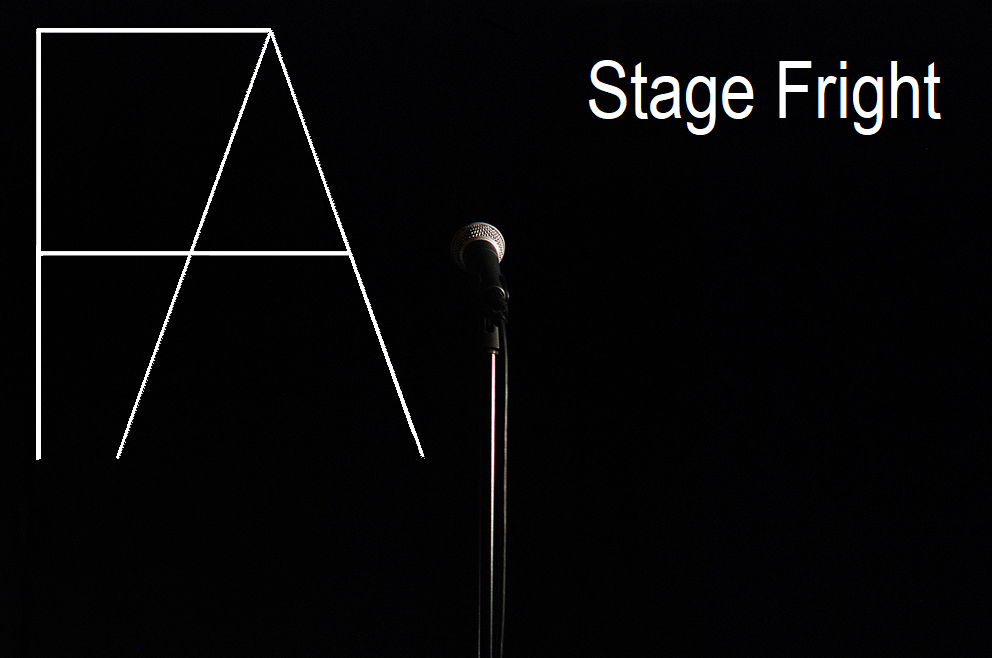 I was a bit worried. Not overly worried, just a little. My little brother was having a party. (I can't call him my "little" brother anymore, seeing as he's 6 ft and I'm 4'11" but oh well). He wanted me out of the house, not because he hated my company or anything but because it was a teenage party. Full of spotty youths being drunk and falling over. Not really my kind of thing, but it does dent your ego a touch when the dog is more likely to get invited to a party than you are.
Luckily for me, I had something else to do that night. Stage Fright was on. I hopped on the number 6 bus to the little café at Queens Court, Ayr which is run by local cultural movement Freshayr. For those who don't know, Ayr is a town on the west coast of Scotland and is best known as being the hometown of our national poet, Robert Burns.
Robert Burns is most famous for New Year's Eve favourite Auld Lang Syne, however he has written many poems and songs adored throughout the world such as Tam O Shanter, Tae A Moose (where Steinbeck's novel 'Of Mice and Men' got its title) and My Love is Like A Red, Red Rose to name just a few. Not surprisingly, Ayr has milked tourist revenue to ridiculous proportions, with countless Burns themed pubs, restaurants, festivals, statues, you name it, it's got a Burns reference somewhere. Yet it has little to offer to actual poets who live in Ayr, which is why Freshayr came into being.
Stage Fright was created as a safe space for spoken word performers who are nervous about reading aloud in front of people, and it's run by local poet Tracy Harvey, who's most famous piece is her monologue 'The Missus', inspired by Burns' wife Jean Armour (which is very good, I recommend you check it out.)
We gathered in the little café, huddled around a barrel shaped table. It's a small group with a wide age range. There were some nine-year-old girls with their grandmother, Tracy, myself, a young woman who used to be a nurse, a lovely English teacher holding her blue ring binder and Michael who has fuzzy white hair and is a regular at the café.
We introduced ourselves, and then Tracy got us to do some breathing and vocal exercises. It taught us breathing techniques to try and calm our anxiety, warmed up our vocal chords but also broke the ice in a good way. We looked ridiculous doing them, but that was fine. It helped us to laugh together.
After we'd gotten to know each other, Tracy tasked us with writing a description of our journeys there. We needed to think about the senses we had used- what we felt, saw, smelled, tasted, that sort of thing. Then we were to read out what we had to each other, through the microphone. We only had about ten minutes to write it. Hang on, I wasn't prepared for this. I was an experienced performer, and had a large portfolio of poems all ready to read out. I knew what the journey there was like, and could visualise it in my head- I saw the bus, I felt the furry seat under my bum, I heard the hum and felt the tremor of the engine. I smelled for a moment the glorious spices wafting out from the local Indian restaurant. But I couldn't make anything polished or interesting out of it. I needed a tangible idea within a few minutes and could get nothing from what I'd sensed. I was forced to do something I am terrible at- winging it. I rambled on about my brother wanting me out the house for this teenage party he was having, not unlike the first paragraph of this blog post actually.
So I stepped up to the mic. I placed my clunky blue A4 notebook on the stand and recited. I put as much life into it as I could, trying to emulate how I heard it in my own head. I like to think I came across as confident and well-spoken, even if the content was drivel. The point of this wasn't to read something polished though. It was to get the gumption to read out something of your own, to hear your unedited thoughts and to get you in the habit of writing with the senses, to immerse your audience. I unfortunately had barely anything about my senses, but I had something to read out, that might be funny? I was never very good at sticking to Task.
For the last hour, we took turns to read poems. This was my time to shine, it was more a practice than a turning point, but it was an enriching experience. It gave me a real chance to see which poems worked and which ones didn't, without feeling judged for it. It gave me a new faith in my work, that I may not have been able to get anywhere else.
However, the best part was listening to other people read out poems. Not because it was their poem, not because they were trying to look cool or hip but just to enjoy poetry. It gave me a new appreciation of the spoken word. One highlight was listening to one of the nine-year olds read the opening passage to Trainspotting 2, which is something I'd never seen before and will probably never see again. What was even better is that she was so nervous to read aloud before. Now she'd read, she kept going back up with another poem. It was refreshing to see their confidence grow and see them develop as speakers.
Most people in the group chose to read classic poems; there was a poem about the joys of a good glass of wine written about a century ago. I don't remember what it was called, but I remember it was eerily relatable and I could almost taste the wine. It tasted better than wine actually does taste, as far as I can recall.
It was a really nurturing environment. There was no agenda, except to support others and enjoy poems. The whole point of the workshop is to build other people up, whether you're a performer or poet looking to perfect their craft or just someone who has a fear of public speaking. I'm so glad that I went.
Stage Fright is held at Queens Court Café, Ayr every Wednesday night from 7-9pm. If you're interested in going or want to find out more about the kinds of events Freshayr has in store then check out their Facebook page or follow them on Twitter. If you're curious to see more of Robert Burns, I've placed little video links so you can listen and enjoy.
If you like what you see so far, you can find more of Jen's work in the links in the article/down below and on her website dearoctopuswriting.wordpress.com. You can also follow her on Twitter (@dearoctopus4) or Tumblr https://dearoctopuswriting.tumblr.com/  or give her a like on Facebook (Dearoctopuswriting).