I always find it fascinating when I pick up a second-hand book and find a previous owner's inscription, especially when they are dated and you're holding something that was written decades ago. It's part of the history of that book as it has been passed through many hands. Often these inscriptions are just names and dates, but sometimes a previous owner will write a message to a friend or a loved one as they pass the book along, and sometimes previous owners will comment on the contents of the book itself – they're not always flattering but always entertaining.
I handle a lot of second-hand books as part of my job, and sometimes there's more than just an inscription inside these books. I often find old bookmarks, and things that people have grabbed to use as bookmarks. I've found postcards, photos, letters, receipts, greetings cards, and more. It is worth checking pieces of paper for signatures, you may stumble across the signature of someone famous. I've also been told that some people use money as bookmarks too but I haven't come across any actual money yet.
I never used to save any of these items but I've started collecting and saving things that I find in books. Recently I found two letters in a copy of 'Flowers of the Field' by Rev Charles Alexander Johns. One was dated 27th July 1949 and read as follows:
My Dear [N],
I think you told me you did not possess a copy of Johns; here it is –  a small thank-offering for delivering us from the lions den. 
Please don't acknowledge this; I'll hope to see you when we get back on Sept 5th. 
I hope you'll have a really good holiday.
yours ever, [W.M.]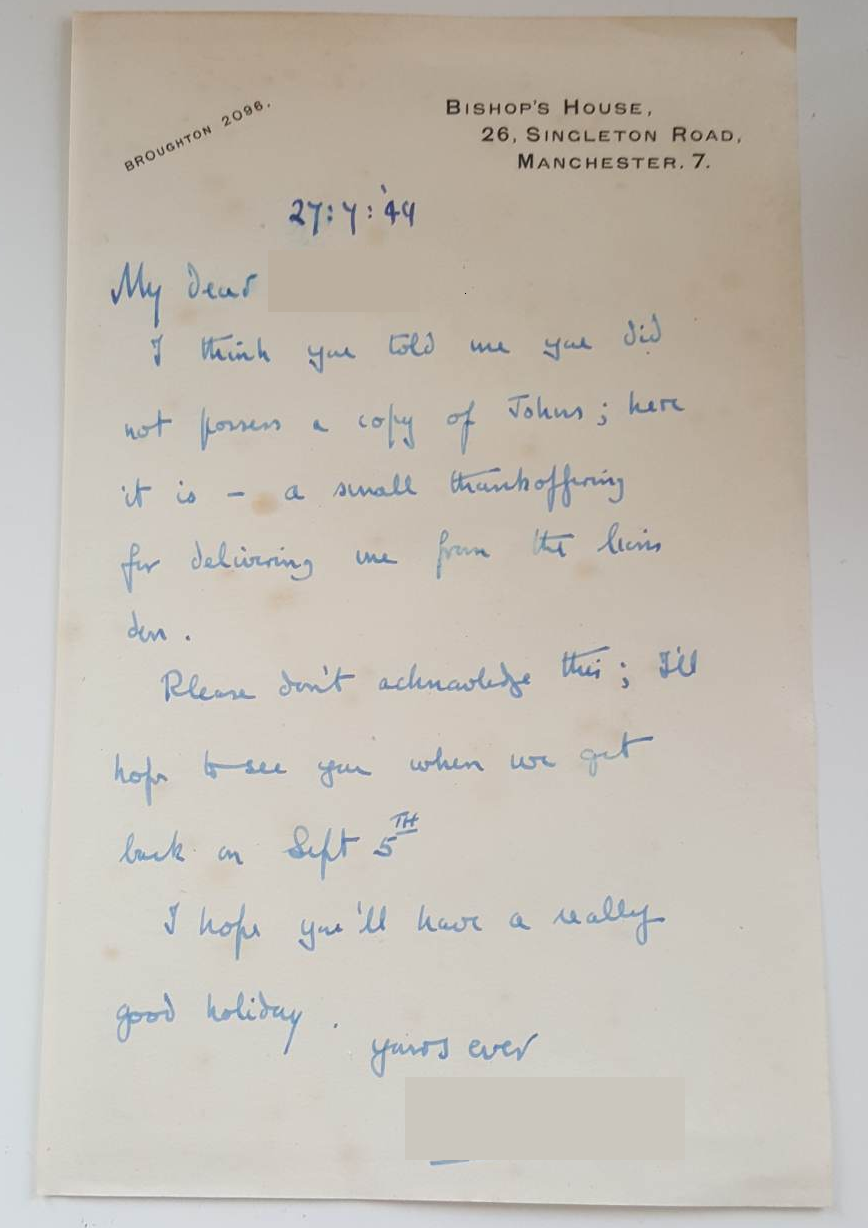 You often find dried and pressed flowers in-between the pages of old books, particularly books on natural history. Cuttings from magazines and newspapers appear frequently too, often relating to the book itself or its subject matter. Feathers also make popular bookmarks, but people will often use just about anything they can as a place holder.
Finding random things inside of books is not a new thing. In 2018, a librarian at the college's Schaffer Library reportedly found an envelope with a lock of George Washington's hair inside. This envelope was found in a copy of 'Gaines Universal Register or Columbian Kalendar'.
In 2014, Auctioneers Dominic Winter presented a copy of 1940's 'The Problem of Pain' by C. S. Lewis with an original handwritten letter inside that detailed C. S. Lewis' definition of Joy.
A pair of spectacles was reportedly found in a 1907 copy of 'The Story of a Fight' by Hugh Lloyd. The spectacles had been inside the book for so long that they had damaged the binding.
Whether it be shopping lists, tickets, love letters, or other more peculiar items, it seems that readers will never fail to find something to hide or use as a bookmark.
References:
N.Y. College Says Forgotten Book Reveals Lock Of George Washington's Hair : The Two-Way : NPR
Unseen CS Lewis letter defines his notion of joy | CS Lewis | The Guardian