I love books and I love reading, although I find it hard to make time for reading. My TBR list is constantly growing and I often have to stop myself from buying more books.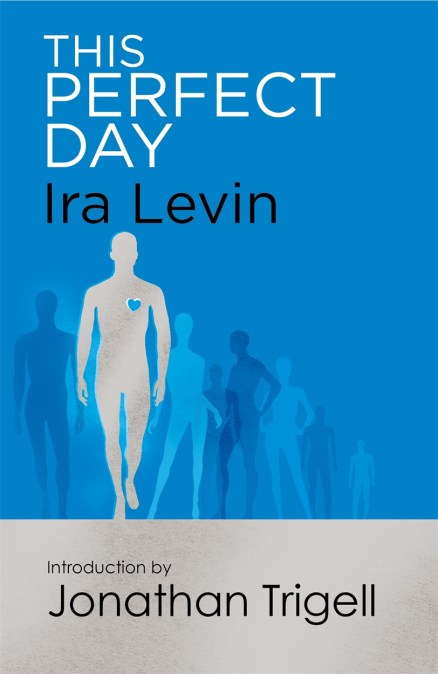 At the moment I'm currently reading This Perfect Day by Ira Levin, recommended by a friend who knew I wanted to read more dystopian works like Orwell's 1984.
Set in a seemingly perfect global society, where uniformity is the defining feature, one man leads the resistance against UniComp – a central computer that has been programmed to keep every single human on the surface of the earth in check. All ethnic groups have been eugenically merged into a single race called 'The Family', and citizens are continually drugged so that they can never realise their potential as human beings, but will remain pliant and cooperative.
With a vision as frightening as any in the history of the science fiction genre, This Perfect Day is one of Levin's most haunting novels
I've almost finished reading this novel and I have mixed feelings about it. Parts of the story seem slow and other parts seem a bit rushed, and the relationship between Chip and Lilac seems a bit forced. I haven't finished this book yet and I'm not entirely sure if I will finish it, it's interesting, but I think George Orwell's 1984 is better.
My TBR list is in no particular order…
1] The Man In The High Castle by Philip K. Dick
Also recommended to me by a friend is The Man In The High Castle, another classic dystopian to try, hopefully I will enjoy this one more than This Perfect Day.
It is 1962 and the Second World War has been over for seventeen years: people have now had a chance to adjust to the new order. But it's not been easy. The Mediterranean has been drained to make farmland, the population of Africa has virtually been wiped out and America has been divided between the Nazis and the Japanese. In the neutral buffer zone that divides the two superpowers lives the man in the high castle, the author of an underground bestseller, a work of fiction that offers an alternative theory of world history in which the Axis powers didn't win the war. The novel is a rallying cry for all those who dream of overthrowing the occupiers. But could it be more than that?
Subtle, complex and beautifully characterized, The Man in the High Castle remains the finest alternative world novel ever written, and a work of profundity and significance.
2] Scattered All Over The Earth by Yoko Tawada
This book caught my eye at my workplace, I loved the cover and as soon as I read the blurb I realised this was definitely a new dystopian I wanted to try.
Welcome to the not-too-distant future. Japan, having vanished into the sea, is now remembered as 'the land of sushi'. Hiruko, a former citizen and a climate refugee herself, has a job teaching immigrant children in Denmark with her invented language Panska (Pan-Scandinavian): 'homemade language. no country to stay in. three countries I experienced. no time to learn three different languages. might mix up. insufficient space in brain. so made new language. homemade language most Scandinavian people understand'.
Hiruko soon makes new friends to join her in her travels searching for anyone who can still speak her mother tongue: Knut, a graduate student in linguistics, who is fascinated by her Panska; Akash, an Indian man who lives as a woman, wearing a red sari; Nanook, an Eskimo from Greenland, first mistaken as another refugee from the land of sushi; and Nora, who works at the Karl Marx House in Trier. All these characters take turns narrating chapters, which feature an umami cooking competition; a dead whale; an ultra- nationalist named Breivik; Kakuzo robots; uranium; and an Andalusian bull fight. Episodic, vividly imagined and mesmerising, Scattered All Over the Earth is another sui generis masterwork by Yoko Tawada.
3] The Book of the Most Precious Substance by Sara Gran
Another recent release that caught my eye in my workplace – the perils of working in a bookshop – and it's a book about a book dealer! The cover and title were both intriguing but the blurb really grabbed my attention, finding rare books is one of the best things about selling second-hand books, so of course I want to read about Lily Albrecht as she hunts for the most powerful occult book ever written.
Rare book dealer Lily Albrecht has been given a tip-off about The Book of the Most Precious Substance, rumoured to be the most powerful occult book ever written. With some of the world's wealthiest people willing to pay a fortune for it, she embarks on a journey from New York to New Orleans to Munich to Paris, knowing that it could also help erase the greatest tragedy of her life.
But does the book really exist at all, or will Lily lose everything in search of a ghost?
4] It Can't Happen Here by Sinclair Lewis
Another recommendation from a friend for classic dystopian novels, It Can't Happen Here by Sinclair Lewis. Similar to The Man In The High Castle and This Perfect Day, both of which are also set in America, I'm not sure how I will find reading this novel, although from reading Amazon's description, it sounds a lot like a fictionalised version of Donald Trump, though I will reserve judgement for now.
Published during the heyday of fascism in Europe, It Can't Happen Here is a chilling cautionary tale by one of the greatest American writers of the twentieth century, which is still startlingly relevant almost a century later. Charting the rise to power of Berzelius 'Buzz' Windrip, who whips his supporters into a frenzy while promising drastic reform under a banner of patriotism and traditional values, It Can't Happen Here decries the tactics used by politicians to mobilise voters, and exposes the danger of authoritarianism arising from populist platforms, and the chaos such regimes can leave in their wake.
5] The Bell Jar by Sylvia Plath
I've heard a lot about Sylvia Plath, and her poetry books never sit on the shop shelves for long. She is highly sought after and rarely comes into shop when we buy people's beloved second-hand books. I commented once that I wanted to read something by Sylvia Plath and my colleague recommend Plath's novel The Bell Jar, describing it as 'a bit weird'.
I was supposed to be having the time of my life . . .
Working as an intern for a New York fashion magazine in the summer of 1953, Esther Greenwood is on the brink of her future. Yet she is also on the edge of a darkness that makes her world increasingly unreal. Esther's vision of the world shimmers and shifts: day-to-day living in the sultry city, her crazed men-friends, the hot dinner dances . . .
The Bell Jar, Sylvia Plath's only novel, is partially based on Plath's own life. It has been celebrated for its darkly funny and razor sharp portrait of 1950s society, and has sold millions of copies worldwide.
6] A Curse Of Salt by Sarah Street
Having recently read The Girl Who Fell Beneath The Sea by Axie Oh, this book immediately grabbed my attention. I can't wait to dive into another book with curses, legends and sea monsters.
In a kingdom that fears the sea, Ria Lucroy longs to be brave.
Bodies are washing ashore and everyone knows who's to blame. Legends of the Heartless King shroud the continent in fear; they call him a pirate, a monster, a god. When his mercenaries raid her father's merchant ship, Ria's family is faced with a horrifying demand. They will spare his life, in exchange for one of his daughters.
Determined to save her sisters, Ria launches herself into the world of pirates. Face-to-face with the Heartless King, she finds he is far more than the stories told. He is a man, with a human name and blood-stained hands, bound to the seas by a centuries-old curse. As their chemistry blooms into something more, Ria finds herself caught in an ancient web of secrets.
Battling creatures of the deep alongside those that reign its surface, Ria discovers how to love a heartless man and that some curses aren't so easy to break.
7] Un Lun Dun by China Mieville
I've seen China Mieville's name pop up a few times and when I read the blurb of Un Lun Dun, I was excited as it reminded me of Neil Gaiman's Neverwhere, and I loved reading Neverwhere. Lucky for me I managed to get this as a second-hand copy from my workplace.
Zanna and Deeba are two girls leading ordinary lives, until they stumble into the world of Un Lun Dun, an urban Wonderland where all the lost and broken things of London end up . . . and some of its lost and broken people too. Here discarded umbrellas stalk with spidery menace, carnivorous giraffes roam the streets, and a jungle sprawls beyond the door of an ordinary house.
Un Lun Dun is under siege by the sinister Smog and its stink-junkie slaves; it is a city awaiting its hero. Guided by a magic book that can't quite get its facts straight, and pursued by Hemi the half-ghost boy, the girls set out to stop the poisonous cloud before it burns everything in its path. They are joined in their quest by a motley band of Un Lun Dun locals, including Brokenbroll, boss of the broken umbrellas, Obaday Fing, a couturier whose head is an enormous pincushion, and an empty milk carton called Curdle.
8] Daughter Of The Moon Goddess by Sue Lynn Tan
I love modern retellings inspired by myths, folklore and fairy tales and this one is based on Chinese mythology. I found this book when I was visiting my mum and we visited  the local bookshop. The cover grabbed my attention first but I knew when I read the blurb there was a strong chance I would enjoy this book.
Raised far away on the moon, Xingyin was unaware she was being hidden from the Celestial Emperor – who exiled her mother for stealing the elixir of immortality. But when her magic flares and reveals her, Xingyin is forced to flee her home, leaving her mother behind.
Alone, powerless, and afraid, Xingyin makes her way to the Celestial Kingdom, a land of wonder and secrets. In disguise, she trains alongside the Emperor's son, mastering archery and magic, despite the passion which flames between them.
Vowing to rescue her mother, Xingyin embarks on a quest, confronting legendary creatures and vicious enemies. But when forbidden magic threatens the kingdom, Xingyin must challenge the ruthless Emperor, leaving her torn between losing all she loves or plunging the realm into chaos…
9] Lonely Castle In The Mirror by Mizuki Tsujimura 
I stumbled across this book because I saw the trailer for the anime first and thought it looked interesting, and then realised it was based on a book!
Would you share your deepest secrets to save a friend?

In a tranquil neighbourhood of Tokyo, seven teenagers wake to find their bedroom mirrors are shining.
At a single touch, they are pulled from their lonely lives to a wondrous castle filled with winding stairways, watchful portraits and twinkling chandeliers. In this new sanctuary, they are confronted with a set of clues leading to a hidden room where one of them will be granted a wish. But there's a catch: if they don't leave the castle by five o'clock, they will be punished.
As time passes, a devastating truth emerges: only those brave enough to share their stories will be saved.
10] Catfish Rolling by Clara Kumagai
I saw Catfish in a booktime magazine and my friend very kindly bought me a copy, but not only any copy, a hardback copy with beautifully decorated edges. Another book that blends modern story-telling with Japanese mythology. There's a definite running theme with some of the books on this list…
There's a catfish under the islands of Japan and when it rolls the land rises and falls.
Sora hates the catfish whose rolling caused an earthquake so powerful it cracked time itself. It destroyed her home and took her mother. Now Sora and her scientist father live close to the zones – the wild and abandoned places where time runs faster or slower than normal. Sora is sensitive to the shifts, and her father recruits her help in exploring these liminal spaces.
But it's dangerous there – and as she strays further inside in search of her mother, she finds that time distorts, memories fracture and shadows, a glimmer of things not entirely human, linger. After Sora's father goes missing, she has no choice but to venture into uncharted spaces within the time zones to find him, her mother and perhaps even the catfish itself…
11] Flourish by Antonia Case
Surprise! It's non-fiction. It surprised me too. I'm not a massive non-fiction reader but I have to admit, some self-help, motivational and memoir books have caught my eye lately. I like questioning myself and my existence and what I want to do with my life, so reading books about other people asking these same questions intrigues me. Maybe I can learn something from these authors, maybe not.
What is a meaningful life? What does it mean to flourish? Antonia Case, the co-founder of New Philosopher and Womankind magazines, quits her corporate job in the city and, with her partner, travels across the world in search of meaning. In a quest to find answers, she turns off the soundtrack of the media, rids herself of technology, and with little more than books as carry-on luggage, she journeys from Buenos Aires to Paris, from Barcelona to Byron Bay, seeking guidance from ancient philosophers and modern-day psychologists on what is a good life, and what is a life worth living. Along the way she discovers why winning the lottery doesn't make you happy, why making is better than having, and how love and belonging are vital to our sense of selves.
Packed with insight into life's big questions, Flourish will take you on a riveting journey in search of what matters most.
12] Godkiller by Hannah Kaner
Last but not least is Godkiller by Hannah Kaner. I got the hardback version of this book from my workplace and it is beautiful, with beautiful endpapers, seriously, just go out and look at a copy. However it wasn't just the beauty of the book that made me want to buy it, the blurb also grabbed my attention with more gods, myths and fantasy. 
You are not welcome here, godkiller
Kissen's family were killed by zealots of a fire god. Now, she makes a living killing gods, and enjoys it. That is until she finds a god she cannot kill: Skedi, a god of white lies, has somehow bound himself to a young noble, and they are both on the run from unknown assassins.
Joined by a disillusioned knight on a secret quest, they must travel to the ruined city of Blenraden, where the last of the wild gods reside, to each beg a favour.
Pursued by demons, and in the midst of burgeoning civil war, they will all face a reckoning – something is rotting at the heart of their world, and only they can be the ones to stop it.
These are just some of the physical books I own that I need to read, but I have another list of books that I'm keeping my eye on and will hopefully get at some point in the future.