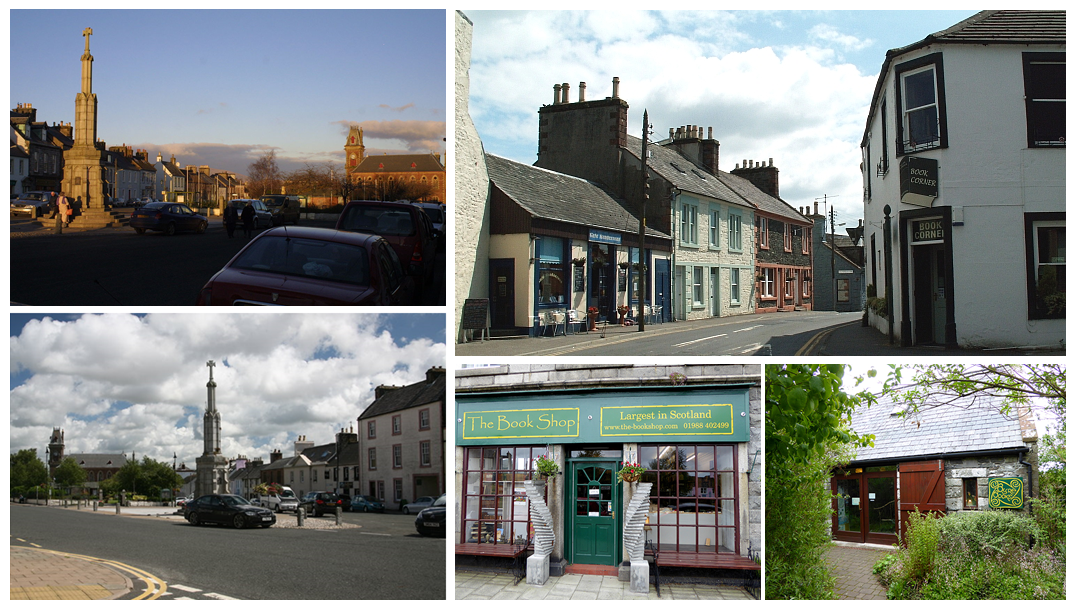 Admittedly my trip to Wigtown was booked rather last minute dot com. I had been meaning to visit Scotland's National Book Town for some time, but between searching for properties and moving out, I hadn't gotten around to it. Then there came a two week lull where all the agreements had been signed but my new flat was left waiting for broadband. Since my work is all home-based and requires the internet, there was little I could do, so I decided that this was the perfect time to book an overnight trip to Wigtown.
I went online, searched for places to stay in Wigtown, and quickly found a great priced room available for one night at the Hillcrest House B&B. My goal in Wigtown was to be nosy, get a general feel for the place, and go around all the bookshops and dig the owners' brains for any tips and advice for anyone who is thinking about setting up a bookshop for the first time. (I also personally aimed to buy a book from every bookshop in the town.)
Now for those of you who don't know, Wigtown is a little town in the Dumfries and Galloway region in the Southwest of Scotland. It has a population of around 1,000 people and is home to several, independent, second-hand bookshops. Now this may not seem like a lot at first glance, but it means there's one bookshop or book café for every 100 residents. To put this into perspective, Edinburgh would probably need around 5,000 bookshops in order to compete and I counted fewer than 40 bookshops that are currently open in Edinburgh today (according to google maps and not all of those were independent).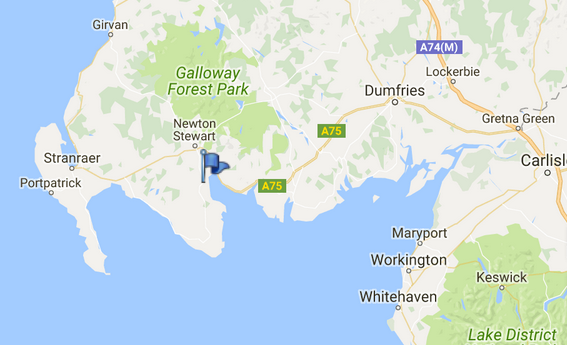 Wigtown's book town status was planned by the Scottish Government in order to regenerate a depressed and struggling area. Wigtown, like many other similar towns, had suffered its fair share of setbacks; the local creamery and distillery closed during the 1980's and 1990's, and foot-and-mouth outbreaks assailed the farming industry. A number of towns competed for the book town status and Wigtown won, partly because there were so many properties on the market and opportunities to create bookshops. In 1998, Wigtown officially became Scotland's National Book Town.
On the 22nd September 2016, a sunny, Thursday morning, I set off on a 400 mile roundtrip to Wigtown. My not-so-trusty Satnav was fine going up the M6 but then got confused as to which exit to take around Gretna. Luckily, I managed to get onto the right road again and after cursing a couple of roundabouts later, I was on my merry way along the A75. I recalled reading a blog only a couple of weeks earlier about a person who had stayed at the air B&B 'The Open Book', and how they had taken the 'scenic' route into Wigtown by mistake. I hoped that my Satnav wouldn't guide me that way but as I came to a little village called Crocketford, my Satnav instructed me to turn right onto the A712. Foolishly trusting my Satnav and forgetting the directions I had looked at the night before, I took the right turn.
I realised immediately that it was a windy, narrow road surrounded by farm fields, but I naively thought that it would only be a short distance and that the Satnav would take me back onto a better road soon. Halfway along the A712, after passing more fields and a couple of churches or chapels (I wasn't really sure what they were) I suspected I may have taken the scenic route. This was confirmed dozens of sharp corners later when the fields turned to trees and I passed the sign for Galloway's National Park. I groaned when the realisation hit but it was a bit too late to turn back now, so I kept going. Eventually I surfaced from the woods and found civilisation again, and within ten minutes I arrived at Wigtown. (The A712 is a very pretty route but it will take you longer to reach Wigtown. If you want to avoid it, ignore the Satnav and stay on the A75 heading towards Stranraer.)
I drove through the centre of Wigtown barely registering the white gazebo and tents being set up, and bar a couple of people milling around, the town seemed quiet. I found Hillcrest House and was immediately blown away by the building. It was huge, the outside walls were predominantly big, grey, stone slabs, and red stone slabs surrounded the large, tall windows, and arched porch and front door. I parked my car in the guest carpark and hauled my stuff around to the front door.
I was greeted by Andrew, one of the owners, but the first thing I noticed once stepping into the house were the extremely high ceilings. I assumed then that the B&B had to be an old Victorian house. I checked my facts when I got home and Hillcrest House is indeed a Victorian villa, the house retains a lot of original features, including picture rails, skirting boards and ornate covings which I discovered in my room. Andrew quickly sorted out my room key and whilst telling me about breakfast times, his adorable cat, Shadow, made an appearance. I couldn't resist giving Shadow a bit of fuss and knew that my currently, backpacking sister, would be jealous of my encounter with the furry feline.
Andrew then showed me to my room and asked, 'Have you come to Wigtown for the Festival?' I looked at him blankly and said 'Festival?' I had managed to book the room only a week prior. I thought if there were any scheduled events then I wouldn't have been able to get a room at all, as I've read and been told that when the Festival hits Wigtown, all accommodation is booked up months in advance so I was a little confused. He explained that the annual Wigtown Book Festival was due to start the very next morning and that it would go on for 10 days. I found this revelation hilarious and my little story drew more chuckles from the residents of Wigtown in the following 24 hours.
I walked into town late in the day and passed a couple of bookshops that had closed for the day. I paid attention to the white gazebo and tents being set up in the middle of the town for the Festival this time, however I couldn't see very much. I knew from the itinerary in the Wigtown Book Festival guide, that this would be the place where guests would hold talks and books would be undoubtedly signed and sold.
I entered 'Craft' a pub-restaurant that specialises in burgers and beer. The pub-restaurant was empty at this early hour and the staff members were sat on sofas awaiting their first customers. I asked if they were serving food as I was famished from being in the car most the afternoon and a man named James said they served food from five o'clock, whilst glancing at his watch and adding that it was five o'clock. I felt a little guilty as all the staff leapt to their feet, but I was shown to a table and ordered a 'Rosemary and Pear' drink and a chicken burger called the 'Posh Rooster'. The name's irony wasn't lost on me either; my voice is often described as accent-less, or posh according to Northerner's and Northern according to Southerner's.
I got chatting to the bartender, James, who asked, 'What brings you to Wigtown then?' I told him I had taken the wrong route in, hadn't realised the Festival was starting tomorrow, and that I was ultimately in Wigtown because of work. James laughed and said that I must have a good job (I do, it is probably the greatest job in the world). When my meal arrived, the burger was huge and to my amazement James told me that some customers had complained that their burgers were too small. More customers arrived and after I had finished every last bite of my meal, which was delicious and exceptionally good value for money, James suggested that I made sure to visit 'The Bookshop' tomorrow. He pointed at a pretty building across the road with big green signs. I thanked him for his time and the food then called it an early night.
The following morning, after the most wonderful shower in the world and a hearty Scottish breakfast, I met Debra, the co-owner of Hillcrest. I ended up talking to Debra and Andrew about my work and the bookshops in Wigtown, and they assured me that everyone was friendly and chatty. They gave me a brief history lesson about Wigtown and who had been around for the longest (and shortest), and after thanking them for the room and breakfast and armed with my new knowledge, I was on my way.
I visited The Bookshop first and was met with the warm, familiar smell of old paper. The owner, Shaun Bythell, stood behind a little counter talking to another man about politics, a risky subject to bring up anywhere these days. I browsed the bookshelves which stretched to the top of the high ceilings in the front section of this Georgian shop and although I wasn't trying to listen, I heard the mention of Brexit and Donald Trump in such a way that brought a cynical smile to my face. I knew then that I shared Mr Bythell's (who will probably shake his head at being referred to in this way) opinions and sense of humour.
I ventured further into the shop which stretched back into several rooms both big and small, in every available space there were books and I was amazed at how large the shop was. There was a little loft with a bed over one of the middle rooms and there were books going up the stairs to the living space on the second floor. The Bookshop stocks over 100,000 titles and every second-hand book you could possibly imagine. After visiting the little garden room at the very back of the shop which held the botanical section, I made my way back to the front of the shop and found that Mr Bythell's previous conversation had come to an end.
Approaching people and talking to them is really not my thing, so I took a deep breath whilst hiding behind a bookshelf filled with antiquarian books, then made my way to the counter. I approached a little too quietly as Mr Bythell, who was sat at his computer in the corner, didn't notice me at first. Then he did notice me – and commented on my stealth. I asked if he was the owner and explained about my visit and asked if he could give me any advice on running a bookshop. Mr Bythell seemed pleased by the question, he said that he loved being self-employed and running his bookshop, but it is hard work and that Amazon has hit the industry hard – he had a few choice words to say about their tax avoidance too.
His advice was to just do it, but the first thing you should work out is what you can afford to lose in the first year, then if you lose it, get out. Mr Bythell explained that minimising your outgoings is crucial. He was also keen to point out that even though all his books are second-hand, he and the rest of the bookshop owners in Wigtown, buy all their second-hand books, they do not get them for free. He said it can be irritating when customers assume you have received second-hand books for free and then try to haggle you on the price, fair point.
I spoke to Mr Bythell for about 2 hours, he has owned his bookshop for 16 years (I think) and has written an autobiography of sorts based on his personal diary entries during the year 2014. His book is due out in June 2017 and he lightly threatened that I would probably feature in the sequel, if there is a sequel. In his book he talks about running his bookshop and his various encounters with customers (be prepared for sarcasm). He also suggested reading George Orwell's essay 'Bookshop Memories' as Orwell also writes about his experience working in a second-hand bookshop. Unfortunately I couldn't stay in The Bookshop debating who had the strangest surname all day (a competition that I'm still sure I won), so I thanked Mr Bythell for his time and made my way next door to 'Curly Tale Books'.
Curly Tale Books sits in stark contrast to The Bookshop. It is considerably smaller, but bright and full of new and second-hand children's books, gifts, cards and a small section of YA books. Jayne Baldwin and Shalla Gray run this bookshop and sell their own, beautifully illustrated children books here too. Ms Baldwin was present in the shop when I walked in, and although Curly Tale Books has only been going for a year, she was happy to talk to me in between her sales.
The shop had originally been a bookshop, so before building up their new stock, they sold some of the old stock on eBay. She explained that she was still learning how to do things but she was having great fun with it. However, she admitted that she thought she may have had a chance to read a book or two during the shop's quiet periods, but found that this is not the case; there is always something to do. Ms Baldwin reckons that there is space for more bookshops in Wigtown and that all the current bookshops try to complement one another. She said it was good being next door to an established bookshop, especially if you can offer something different, and added that having a quirky building is definitely a good idea too.
Across the road from Curly Tale Books, tucked underneath an archway and (to the writers with overactive imaginations) down what almost seems to be a whimsical garden path is a bookshop called 'Byre Books'. The shop is setback a little from the main road and it is owned and run by Laura and Shani Mustian. I met these kind ladies when I entered this bookshop; which specialises in Folklore, Archaeology, Film, Theatre and Scottish books. Byre Books closes completely during November, but they sell books online all year round. Again, both women seemed more than happy to talk to me.
Ms Laura Mustian reiterated that it was important to minimise your outgoings and that new books can be costly and time consuming, there is a lot of paperwork with sale or return offers from publishers. Stocking book genres that you're interested in is also important as sorting out books can be tedious work. She recommended listing books on Abe, and said that Abe offers a free listing programme that you can download. I asked if the shop was quieter due to its location and Ms Laura Mustian said that even being a little bit off the main road was sometimes a hindrance, as a lot of potential customers seem too shy to walk down and under the archway. Her advice was to try and be on a main street and near a cashpoint; she explained that it is expensive to own a card machine and that if you could only accept cash then you will save money. She also said that it is potentially better to buy than rent premises for a bookshop, but she acknowledges that this isn't always possible. I thanked both women for their time and headed back out onto the Main Street.
At this point it was way past noon and I was pretty hungry, so I decided to try one of Wigtown's book cafés, the 'ReadingLasses Bookshop & Café'. I had never seen a book café before so I was intrigued by the layout. As soon as you walk through the door there are two rooms, one immediately to the left and one to the right. These rooms were lined with bookshelves and contained comfy chairs where customers can sit, order drink and food, and read and buy books. As you go further in there is a middle room which has chairs, tables, bookshelves and a selection of cakes and a machine for hot beverages. Further down there is an additional room at the back of the shop which is purely a café, there are no bookshelves inside but plenty of tables and chairs where you can sit and enjoy soups and sandwiches. I sat at the back here and gazed at the collection of book covers displayed as wall mounted artworks, whilst sipping a luxury hot chocolate and eating a giant fruit scone (both of which I can seriously recommend).
After my break, I made my way to 'The Old Bank Bookshop', again this building was huge inside and every wall space was lined with tall bookshelves. I quickly found one of the owners, Mr Cochrane, who laughed when I asked for advice on opening a bookshop and said 'don't do it!' Mrs Cochrane turned up moments later and even though she admitted that working in a bookshop is labour intensive, she smiled and said she couldn't imagine doing anything else. She said that you have no free time, you have to live modestly, and that she and her husband hadn't had a holiday in twelve years. Mrs Cochrane's advice was that you really have to love doing it, you have to be customer friendly, and that you need a balance between marketing online and running your bookshop.
Feeling optimistic, yet tired and not looking forward to the journey home. I stopped briefly in 'Glaisnock Café, Guest House and Bookshop'. This book café was completely different to the ReadingLasses as there were three separate rooms, with one room at the back which houses their second-hand books on a couple of walls lined with shelves. The other two rooms are used for the café only. They had an insanely cheap sale on that day; it was only 50p for a paperback and £1 for a hardback. If I had realised this earlier I may have spent more time and money here, as it turned out, I restrained myself to one book.
Sadly, 'The Open Book' and 'The Book End Studio' were closed during my visit, though I suspected their owners may have been busy with the Book Festival. I did try to visit 'Bookrests' in Bladnoch which is a couple of miles from Wigtown. However, my Satnav is either truly terrible (which is quite likely), or this shop no longer exists (I think this is more likely). I didn't visit 'Beltie Books and Café', and the other bookshop that I regret I didn't visit was 'At The Sign of the Dragon', it's still in Wigtown but not on the Main Street. So if anyone has visited either of these bookshops and can tell me more about them, please leave a comment below.
I left Wigtown shortly after four p.m. and ignoring my Satnav this time, I stuck to the A75 heading towards Dumfries (which I can't help but pronounce as dumb fries in my head), only bodged up on a roundabout once (a minor achievement), and made it back home for just after seven p.m. with seven new books that I most definitely needed. I have decided that my stay in Wigtown was far too short, and for my own health and sanity, I have self-diagnosed myself with a return visit to the town again soon.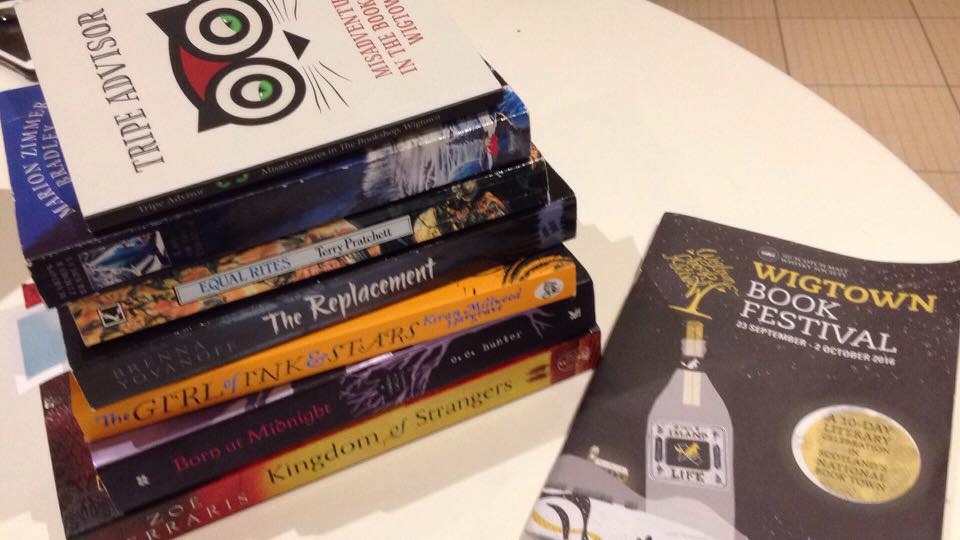 I have to thank everyone once again for taking the time to talk to me on the very first day of the Wigtown Book Festival (begins on the last weekend of September every year and I'm partly writing that here so that I won't forget it again). I appreciate it and all of your advice has been extremely helpful. I have to leave you now as I've gone way over my word count and it's approaching the early hours of the morning. Here is some Bythell humour and a spoof review born from his frustrating encounter with TripAdvisor, enjoy.
'My visit to this shop left me bitterly disappointed. Not only was it nowhere as big as I expected it to be (based on a dream I had, in which I was a dolphin with massive ears, swimming around the bookshelves), but I couldn't find the book I was looking for. When I asked the owner for help he just huffed and went back to playing Tetris on his computer… – 5/5 reviewed by Shaun Bythell on 15 January 2013. Excerpt from Tripe Advisor, Misadventures in The Bookshop Wigtown.'
Note: Not all the photos above are mine, I found them on the public domain. The Bookshop in the top right photo at the top of the blog called 'Book Corner' is now an air B&B called 'The Open Book'.