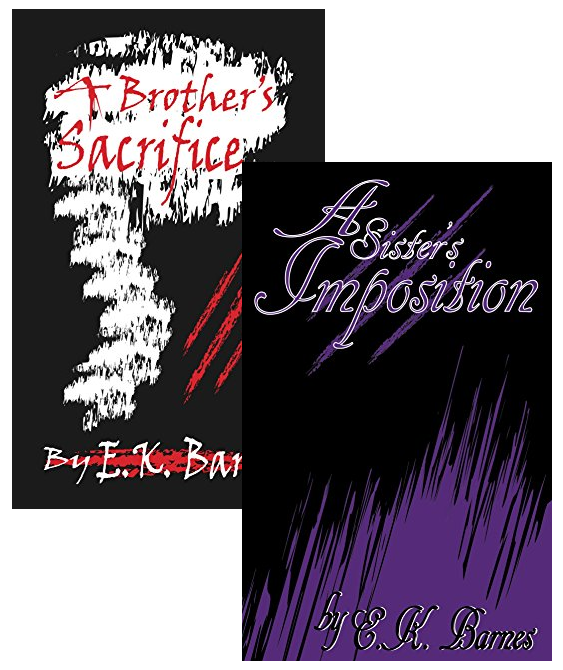 Q1) In one or two sentences, how would you describe your Brunswick Saga series to someone who hasn't read any of your work?
The Brunswick Saga series follows the lives of six siblings following the death and neglect of a parent. Each book in the series mainly focuses on one of the six and their struggles as time goes on.
Q2) How long did it take for you to finish and publish your recent work?
It took a little over a year and a half to write and publish the second book of the series (A Sister's Imposition), which was released in March 2016.
Q3) Have you always wanted to write and when did you first discover that you wanted to write?
I have always loved to write stories. I remember being as young as six or seven and writing all kinds of stories about my family, my pets, or just about anything under the sun.
Q4) Many writers, particularly young writers, have difficulty convincing their parents of their career choice. Have you found this, or society's expectations, a problem?
My parent's never really objected to my writing as a career. In fact, there have been several times they have actually encouraged me to pursue a college degree in English or creative writing. However, I, personally, have considered it more of a side career than a main one.
Q5) How do you spend your average writing day?
My average day isn't necessarily devoted solely to writing. If I have free time, I'll try to devote myself to my writing. I'm currently on a short hiatus while I'm attending college, so lately my days haven't consisted of a whole lot of writing. However, I am trying to get back into the swing of balancing life, school, and writing.
Q6) Is there a specific message, theme or idea that you wanted to get across to your readers with your Brunswick Saga series?
Since The Brunswick Saga is a series, there are several messages that come across throughout the individual books. Overall, the series really digs deep into the idea that life isn't all bad, and that you're never alone in your struggles. It deals a lot with characters having to grow up too quickly and take on roles they shouldn't at that age. Each book kind of has a separate theme. The first deals mainly with death, abandonment, and chaos. The second deals with acceptance and repairing relationships. The third and fourth will focus on the idea of the prodigal son, and the overcoming of fear.
Q7) Are you currently writing or planning to work on a new novel and when will it be ready?
I am currently writing the third installment of The Brunswick Saga series. It will be titled, "A Brother's Dependence." It probably has at least a year left before it will be ready for publication.
Q8) What do you feel is the best piece of writing advice that you have learnt to date?
Relax. Don't let your fears of being a terrible writer block your ability to write in the first place.
Q9) What inspires you?
Life, in general, inspires me greatly. I love hearing other people's stories, even if their terrible stories. I like to keep my books pretty real. What I mean by that is I like to incorporate real struggles that, believe it or not, real people struggle with.
Q10) In this modern age of self-publicity, which social media platforms do you use and find the most useful?
I use Twitter, Tumblr, and Facebook to help promote my books. Twitter is definitely the most popular of the three. I like using Tumblr because it helps connect to my readers a little bit more.
Q11) What novel have you read that you wish you had written?
I may not have actually thought to myself, "Oh, wow, I wish I wrote that," but I did definitely think "Crazy" by Han Nolan was kind of in my realm of writing. The characters dealt with some real problems, and some were similar to what a few of my characters had to deal with.
Q12) If you could be a character in any novel you've read, who would it be?
My favorite book is "Fangirl" by Rainbow Rowell. I've never connected so much to a character than to the main character in that novel, Cath.
Q13) Have you ever fallen in love with a character of your own creation?
Yes, actually. I've actually fallen in love with quite a few. There's innocent little Kaleb, who is the most sweetest, but also the most troubled five year old in the series. The most memorable would be my character, Jude. He starts off as an antagonist, but he soon wins not only the hearts of several girls in the series, but also mine.
Q14) Do you have any favourite novels or authors?
I mentioned before how my favorite novel was "Fangirl" by Rainbow Rowell. I love several of Rainbow's novels. Some of my other favorite authors are Ellen Hopkins, Stephen Chbosky, and Rick Riordan.
Some less serious and extra questions…
Q15) If you could travel to anywhere in the world where would it be?
I have lived in the middle of the United States my entire life, so there are several places just in my country alone that I have yet to see. However, outside of the U.S. I would love to visit countries such as Australia or The Netherlands.
Q16) Do you have any pets?
I do not currently have any of my own pets. I used to live with my family until recently, and we had a cat in the house, who was named Ninja Shadow.
Q17) What is your favourite food/beverage?
My favorite food is pretty much any pasta with alfredo in it. I love linguine alfredo, fettucine alfredo, chicken alfredo, etc.
Q18) If you could have dinner with anyone alive today (famous or not) who would it be and why?
That's a tough question. I would probably love to have dinner with America's Got Talent's 2016 Winner, Grace Vanderwaal. This is the first year that I've watched the show from the audition stages to the very end, and I loved watching her catch her dreams at such a young age.
Q19) If you had a single trip in a time machine where would you go?
I think I would go back to biblical times. I wonder if I'd get to meet some famous Bible characters.
Q20) Can you tell us a random fact about yourself?
Growing up, I always wanted to play the flute, but when I was old enough to play in the school band, I ended up playing clarinet and alto saxophone instead.
A big thank you to E.K. Barnes for answering my questions and sharing her unique insight into the writing world. Learn more about the author and follow E. K. Barnes on her social media platforms by clicking on the links below!