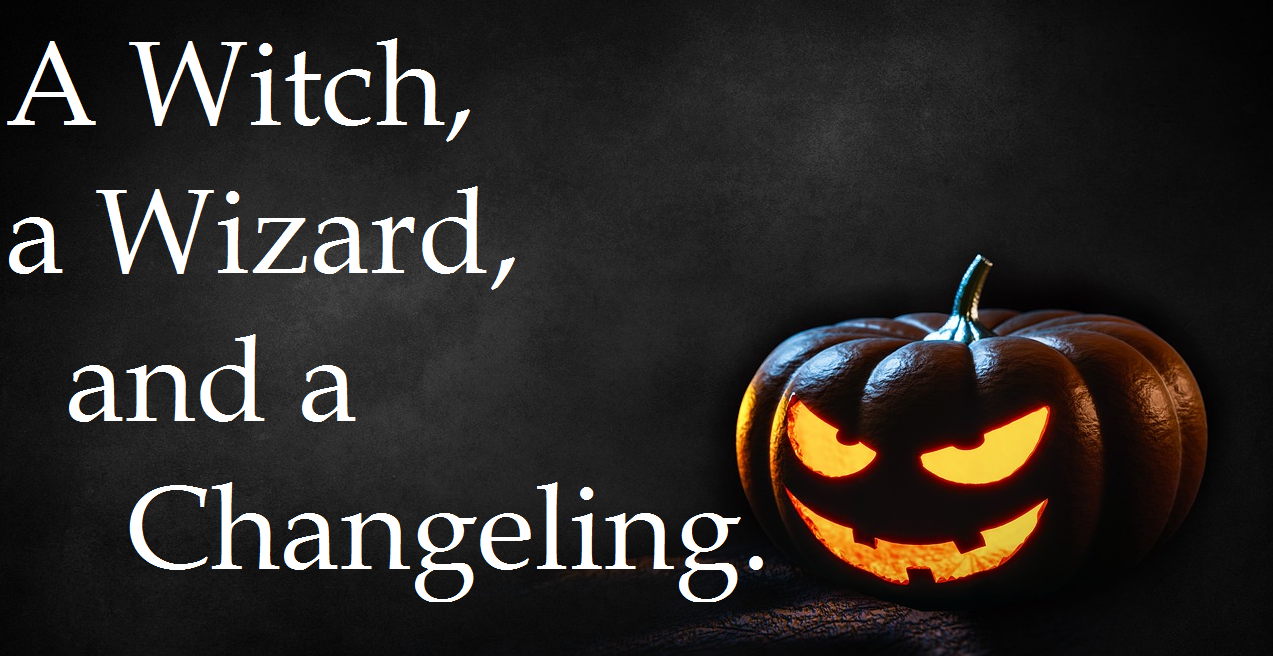 It's that time of year again when it's great if you're a kid, sociable if you're a teen, and usually pretty sucky if you're an adult. Yes, of course, I'm talking about Halloween.
As much as I love kids (and dressing-up), I can think of better ways to spend my evening which doesn't involve getting up to answer the door every five minutes. To all you poor souls who don't have a table booked or a cinema viewing or another excuse to avoid the house, all I can offer you is a blog and some book recommendations to help you fill the minutes between grazing the candy bowl and answering the front door.
I don't have any horrors for you with these next three novels but scroll down to the bottom of this blog for some scarier suggestions. However, for the spookiest day of the year, I do have a Witch, a Wizard, and a Changeling…
'Granny Weatherwax' a Witch from Terry Pratchett's Equal Rites.
Granny Weatherwax is a delightful, hilarious and cunning old witch who aids the main character as they struggle to find the infamous Unseen University. Packed with satire and adult jokes that will go over most children's heads, this character will have you giggling at her ways.
Equal Rites is a fantasy novel suitable for the slightly older teens and adults in my opinion. Equal Rites is the third book in the Discworld Novel Series but you don't have to read these books in their recommended order (I certainly didn't).
"Do you know how wizards like to be buried?"
"Yes!"
"Well, how?"
Granny Weatherwax paused at the bottom of the stairs.
"Reluctantly." – Equal Rites
'Howl Jenkins Pendragon' a Wizard from Diana Wynne Jones' Howl's Moving Castle.
Beautiful, powerful and beyond stubborn, Howl is a wizard who has never really grown up, which is unfortunate for the main character Sophie who finds herself cursed to be an old woman and stumbles across Howl's castle. Just think how hard it would be to keep track of a man-sized toddler and entertain a talking fire? This is another story that will have you in stitches.
Howl's Moving Castle is suitable for everyone, though children and teenagers may enjoy this story more.
"Really, these wizards! You'd think no one had ever had a cold before! Well, what is it?" she asked, hobbling through the bedroom door onto the filthy carpet.
"I'm dying of boredom," Howl said pathetically. "Or maybe just dying." – Howl's Moving Castle
'Malcolm Doyle' a Changeling from Brenna Yovanoff's The Replacement.
Possibly the most Halloween-esque book in the blog so far. The Replacement is more strange and eerie than scary. Malcolm Doyle knows he has never fitted in, and that becomes increasingly obvious when he starts dying. However, beneath his hometown there is a world that belongs to creatures who can help, creatures who aren't fully alive. If you like Neil Gaiman or Tim Burton's style, then you're probably going to like this book.
The Replacement is suitable for teenagers and adults, though the writing style caters more towards teens.
"Do you really want to know where we come from?" she said. "In every century, in every country, they'll call us something different. They'll say we're ghosts, angels, demons, elemental spirits, and giving us a name doesn't help anybody. When did a name change what someone is?" – The Replacement
If these books just don't tickle your fancy or aren't scary or thrilling enough for you, why not give these next few novels a try?
Kingdom of Strangers by Zoë Ferraris
Ring of Conscience by James Stoddah
Under The Dome by Stephen King
Zombie Apocalypse! by Stephen Jones
Happy Halloween From Everyone At Outlet Publishing!
What do you think of these suggestions? Have you read any novels that you think deserve to be mentioned? Tell us in the comments section below!