Christmas Comes To Moominvalley
This is an exquisitely illustrated re-telling of Tove Jansson's classic story The Fir Tree, in which the kindly Moomins are woken up from their winter sleep to be told that 'Christmas' is coming. The only trouble is, the puzzled Moomins have no idea who, or what 'Christmas' is . . .
***
J.R.R. Tolkien Letters From Father Christmas
Every December an envelope bearing a stamp from the North Pole would arrive for J.R.R.Tolkien's children. Inside would be a letter in strange spidery handwriting and a beautiful coloured drawing or some sketches. The letters were from Father Christmas.
They told wonderful tales of life at the North Pole: how all the reindeer got loose and scattered presents all over the place; how the accident-prone Polar Bear climbed the North Pole and fell through the roof of Father Christmas's house into the dining-room; how he broke the Moon into four pieces and made the Man in it fall into the back garden; how there were wars with the troublesome horde of goblins who lived in the caves beneath the house!
Sometimes the Polar Bear would scrawl a note, and sometimes Ilbereth the Elf would write in his elegant flowing script, adding yet more life and humour to the stories. No reader, young or old, can fail to be charmed by the inventiveness and 'authenticity' of Tolkien's Letters from Father Christmas.
***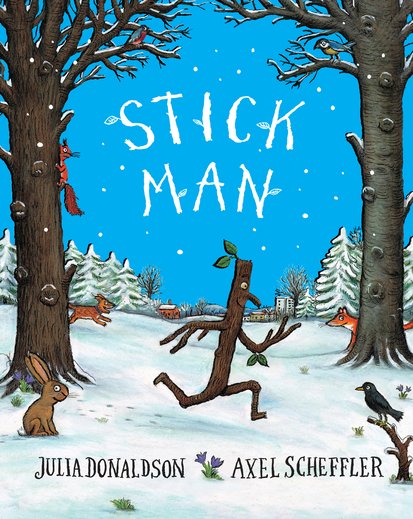 Stick Man by Julia Donaldson and Axel Scheffler
'Stick Man lives in the family tree
With his Stick Lady Love
and their stick children three.'
But it's dangerous being a Stick Man.
A dog wants to play with him, a swan builds her nest with him. He even ends up on a fire!
Will he ever get back to the family tree in time for Christmas? Perhaps Santa can help…
***
How The Grinch Stole Christmas by Dr. Seuss
"The Grinch hated Christmas! The whole Christmas season!
Now, please don't ask why. No one quite knows the reason…"
With a heart two sizes too small, the Grinch is the meanest creature you'll ever meet. He hates Christmas and the whole festive season. But when he hatches a dastardly plot to steal Christmas, he's in for a big surprise!
With hilarious rhymes and beautiful illustrations, this classic seasonal story has become a favourite for good reason and teaches readers the true meaning of Christmas.
***
A Christmas Carol by Charles Dickens
Ebenezer Scrooge is a mean, miserable, bitter old man with no friends. One cold Christmas Eve, three ghosts take him on a scary journey to show him the error of his nasty ways. By visiting his past, present and future, Scrooge learns to love Christmas and the people all around him.
***
Hogfather by Terry Pratchett
IT'S THE NIGHT BEFORE HOGSWATCH AND IT'S TOO QUIET.
Where is the big jolly fat man? Why is Death creeping down chimneys and trying to say Ho Ho Ho? The darkest night of the year is getting a lot darker…
Susan the gothic governess has got to sort it out by morning, otherwise there won't be a morning. Ever again…
The 20th Discworld novel is a festive feast of darkness and Death (but with jolly robins and tinsel too).
As they say: You'd better watch out…
***
Twas The Nightshift Before Christmas by Adam Kay
Christmas is coming, the goose is getting fat . . . but 1.4 million NHS staff are heading off to work. In this perfect present for anyone who has ever set foot in a hospital, Adam Kay delves back into his diaries for a hilarious, horrifying and sometimes heartbreaking peek behind the blue curtain at Christmastime.
This is a love letter to all those who spend their festive season on the front line, removing babies and baubles from the various places they get stuck, at the most wonderful time of the year.
***
Christmas Poems by Carol Ann Duffy
For a decade, while she was Poet Laureate, Carol Ann Duffy gifted her thousands of readers an illustrated poem every Christmas, transporting them in one year to a seventeenth-century festival on the frozen Thames, in another to Western Front to witness the famous 1914 truce, then to a sweet winter's night in the South of France with Pablo Picasso and his small dog.
Christmas Poems showcases Duffy's bold and innovative voice, alongside gorgeous artwork from Rob Ryan, David De Las Heras and Lara Hawthorne, amongst others. These ten much-loved poems are gathered together for the first time in this compendium to make a perfect gift for old friends celebrating a decade's tradition or those experiencing the magic of Duffy's festive verse for the first time.
***
Winter Tales by Dawn Casey
A treasury of stories celebrating the wonders of winter, and the qualities within that warm our hearts through the long cold. This stunning book brings together a selection of wintery tales from all over the world – from North America to Siberia, Scotland, France, Russia and Norway. Written by award-winning author Dawn Casey and with beautifully detailed artwork by illustrator Zanna Goldhawk, this is a magical book to be treasured for generations to come.
***
Meg's Christmas by Jan Pienkowski & David Walser
Oh no! A flood means that Christmas is looking doomed! Enter a spell, a surprise stay in a castle and a party to plan for – will Meg, Mog and Owl make it home for a very special Christmas Day?
Jan Pienkowski's bold, colourful artwork and instantly recognisable characters make this festive adventure for our favourite witch into a fun and satisfying read for the very young onwards.
***
Lucy & Tom At Christmas by Shirley Hughes.
It's Christmas, and Lucy and Tom are getting ready!
There are cards to make, a tree to decorate and presents to hide.
And how can you get to sleep when Father Christmas may be coming?
This classic picture book from the creator of Dogger is the perfect book for Christmas excitement.
***
The Snowman by Raymond Briggs
One winter's night, a snowman comes to life and an unforgettable adventure begins.
Raymond Briggs' classic is a true piece of Christmas magic – narrated entirely through pictures, it captures the wonder and innocence of childhood and is recognised throughout the world.
The Snowman is the perfect festive read for ALL the family!
***
A Boy Called Christmas by Matt Haig
Haig's beautifully realised origin story recounts how a boy from Finland became Santa Claus through a moving, magical tale of adventure and hope.
Join Nikolas on a life-changing adventure, full of fantastic characters and beautiful moments, and watch how one little boy came to be the very symbol of Christmas itself. Full to bursting with festive wonder, this story will warm the heart of readers young and old.