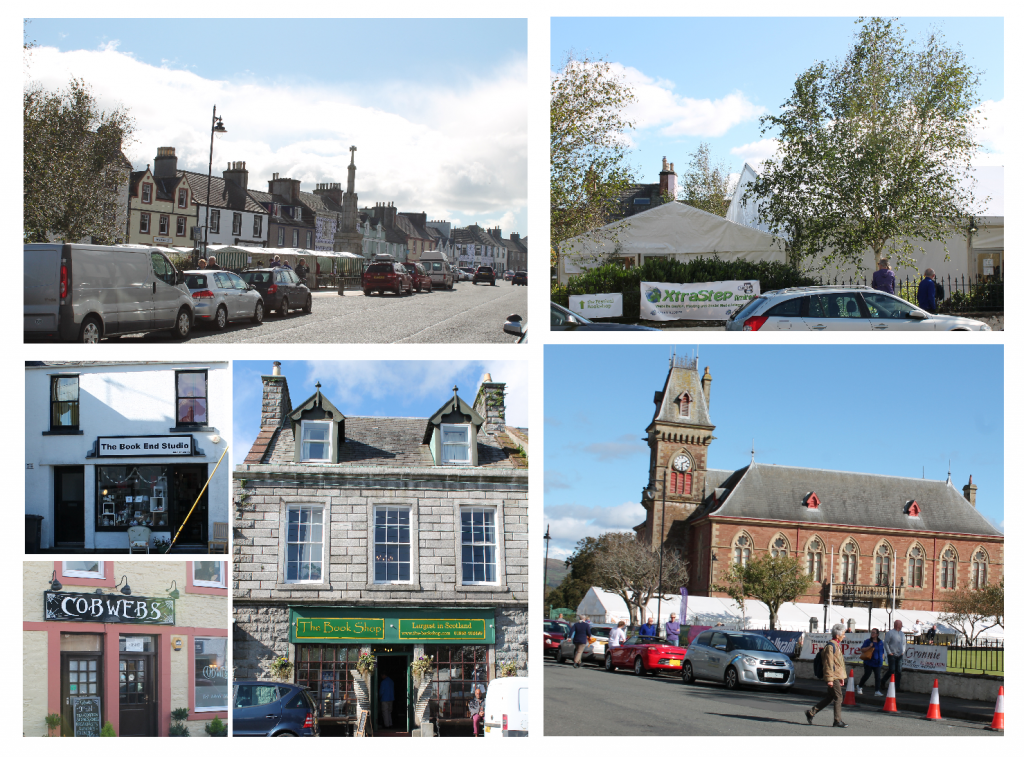 Like the last time I decided to go to Wigtown, I once again found myself booking a last minute visit. I soon discovered that most of the rooms in and around Wigtown had been booked up months in advance, but surprisingly, I managed to book a room for one night right in the centre of town at The Craft Hotel for £65.00. I wanted to be as close to the centre as possible, so being in a location where I could literally step out of my room and onto the main street, suited me perfectly. However, The Craft Hotel is also a restaurant and bar, so if you like music, alcohol and staying up late then you'll love it, but if you want to catch an early night then I wouldn't recommend staying here.
It had been two years since I had stepped foot in Scotland's National Booktown and unlike the last time where I had accidently taken the scenic route in, this time I had stayed on the A75, and I arrived in Wigtown for 3pm on Saturday the 22nd of September. I recalled, with a little regret, why I hadn't been so keen on the drive last time – I encountered several roundabouts, all of which had the same game of 'guess which lane you need to be in order to go straight on'. Sometimes you need to be in the left-hand lane, others the right, and sometimes a magical third lane appeared right in the middle when you were almost on top of the roundabout. Thankfully I managed to safely navigate them.
I arrived later than I had hoped, but as soon as I got to Wigtown I could immediately tell that the atmosphere felt different, more lively and energetic than my previous fleeting visit. There just seemed to be more going on, more cars and more people, a good thing, I hope, for the town and the future of second-hand books. I parked my car and I checked in immediately at The Craft Hotel where I dumped my belongings and hurried over to a bookshop I had failed to visit the last time I had been here.
A six minute walk from the town centre lies a bookshop which looks very much like an ordinary house from the roadside, but in fact has a little outbuilding and a double garage filled with 50,000 books according to the owner. This bookshop is called At The Sign of the Dragon, also known as Dragon Books. It specialises in Science-Fiction and Fantasy, which appealed greatly to my love of the Fantasy genre. Unfortunately, as always, I was on a tight time schedule. Unlike last time, this time I had actually booked myself in to see a couple of the festival events. The first of which was due to start at 4:30pm and left me with a little over half an hour to browse the books At The Sign of the Dragon. I immediately regretted this, as I soon realised that it was an impossible task to adequately browse the books here in my limited time allowance. I tried, and the owner seemed very friendly, and although I couldn't chat for long. He told me that some of the recent stormy weather had smashed the glass in his greenhouse and that he had spent most of his time before the festival clearing it up. I quickly scanned the shelves and picked up three books, judging them with superspeed on their covers and blurbs, hoping that the stories inside would be somewhat decent.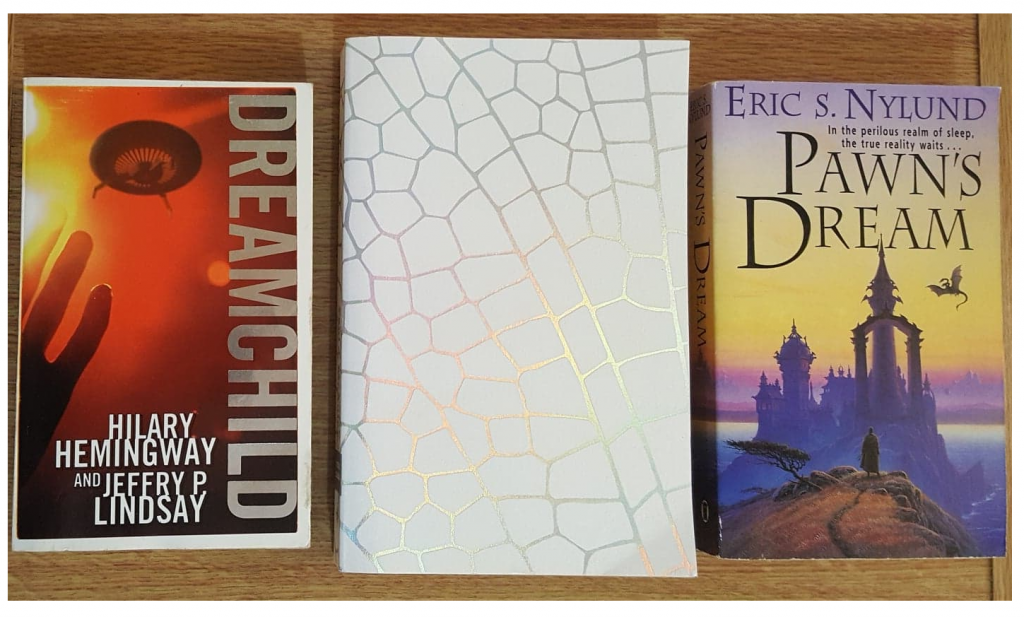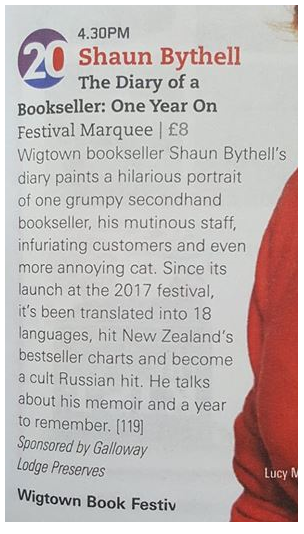 I left and marched back down with my Booths carrier bag containing my new books to the centre of town and joined a queue forming outside the Festival Marquee. I don't like large crowds at the best of times but I was quickly ushered inside the tent and found that it was much larger than I had imagined. There was a small stage at the front framed by black fabric and then rows and rows of chairs stretching back. I estimated that the Marquee could hold five hundred people easily, probably more. I sat down on a chair several rows back from the front of the stage and waited for the talk to begin. I was there with hundreds of other people to see a talk with Shaun Bythell, 'The Diary of a Bookseller: One Year On'. I was curious to see how Shaun was doing, after he had been so kind to speak to me and tell me the ins and outs of setting up a bookshop two years ago. I had been keeping an eye on his social media so I knew his book was doing well and that he had just recently been to New Zealand.
He appeared on stage with another lady after, I believe, 'The Bookshop Band' performed a short, merry piece about an overnight stay at Shaun's bookshop, catching up, drinking and looking at the model railway hidden underneath the floorboards. He was just as I expected him to be, and if he was nervous at all it didn't show. He answered questions about his book and what Wigtown had once looked like back in his youth. It was a very different Wigtown from the one that exists today. He was asked what he would most like to find in a box of books, to which he replied 'money', the audience laughed, but then he went on to talk about some of the most expensive and scarce books he had ever handled, one of which he dealt with on behalf of a friend and made around £25,000 (I think) at auction. He said that running a second-hand bookshop was hard work but that it made him a reasonable living. He once again stressed how Amazon was and still is the biggest threat to bookshops, and that if people wanted to see bookshops on their streets, then they had to support them and accept paying maybe a couple of quid more than what they would pay online. He also said that his book was doing so well that there would most likely be a sequel. The hour came to an end and I bought two copies of Shaun's book from the Festival Bookshop and I waited for Shaun to sign them, as I suspected, he didn't recognise me and I didn't stop to introduce myself or chat as there were a number of other people waiting to have their books signed behind me.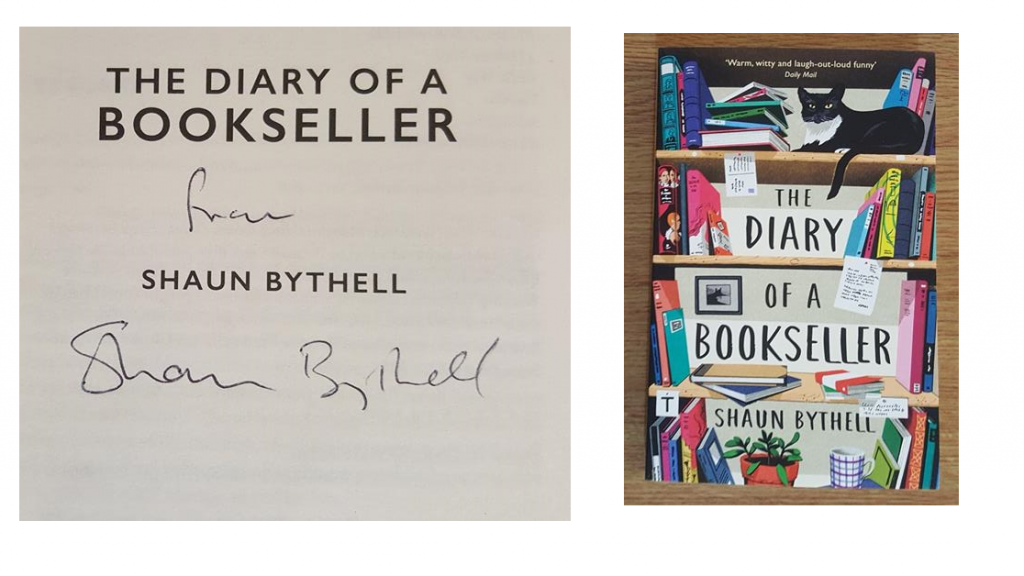 I ate a delicious and hearty meal at Cobwebs and then I went back to my room. I bobbed along to a rendition of Cold Play's Yellow which was played in the bar below me, and just after midnight, I went to sleep. On the Sunday I woke up at 8:20am, showered and had breakfast, paid for my room and then left my hotel. I dumped my belongings in the boot of my car and took my time to look around at the town. I had noticed yesterday that some of the buildings had been decorated but I hadn't stopped to properly look at it all. I snapped a couple of pictures of what I can only describe as exterior, decorative wallpaper. It was very strange, but it did add a unique charm to the place.


I made my way to 'The Bookshop' and wasn't surprised to see that there was no sign of Mr Bythell, I knew he would be in high demand now being somewhat of an international celebrity. I browsed the shelves for around an hour and then picked up three books from the Contemporary Fiction section. One was a selection of short stories on the pain of love, the second was 'The Queen of the Damned' by Anne Rice and the third was a ghost story called 'The Lady In Blue'. I have no idea if any of them are any good, but I had been looking for a copy of The Queen of the Damned for a while now. I only need to get 'The Vampire Lestat' to complete my collection of the first three books in the series.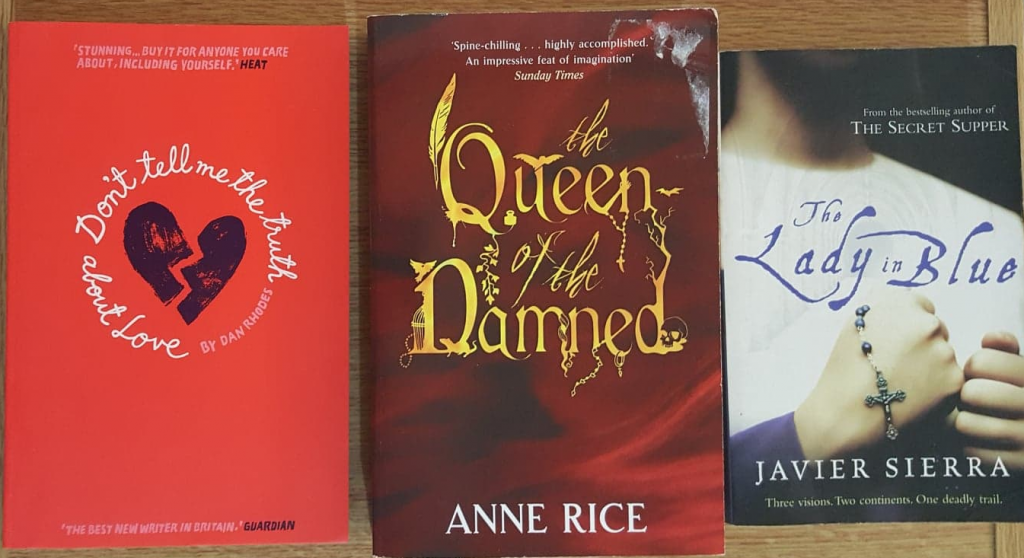 I then went next door to 'Curly Tale Books', and I bought a YA novel called 'Three Dark Crowns' by Kendare Blake and a children's book called 'Tropical Terry' for my cousin who I would be visiting later that evening. I kept going and went into 'The Book End Studio', another shop I had failed to visit last time as it had been closed. It is a shop filled with crafty bits and pieces, jewellery and books. I met the owner in there, a kind lady who asked me about the festival so I told her about Shaun's talk. She laughed and didn't seem at all surprised by my account of Shaun's witty answers. I bought a decorative pin made from old book paper from her and made my way over to 'Byre books' where I bought a copy of 'West Lake, a collection of folktales' translated by Jan and Yvonne Walls. After this I went down to 'The Old Bank Bookshop' and bought a copy of 'The Winter Ghosts' by Kate Mosse before making my way to The Culture Club.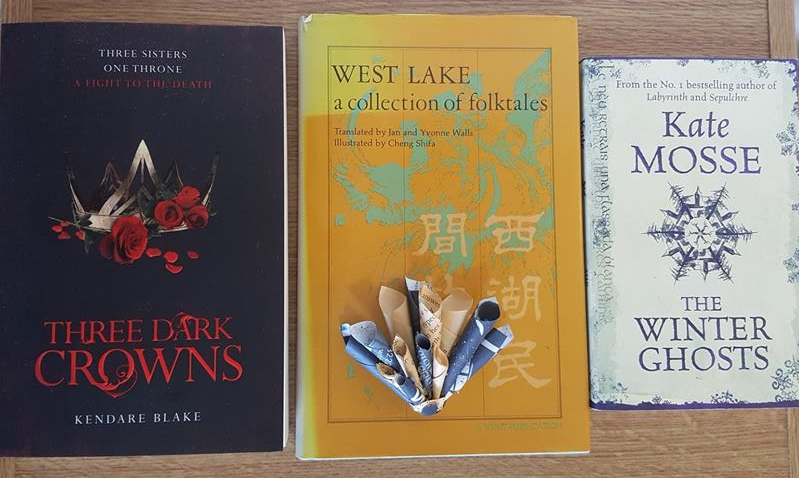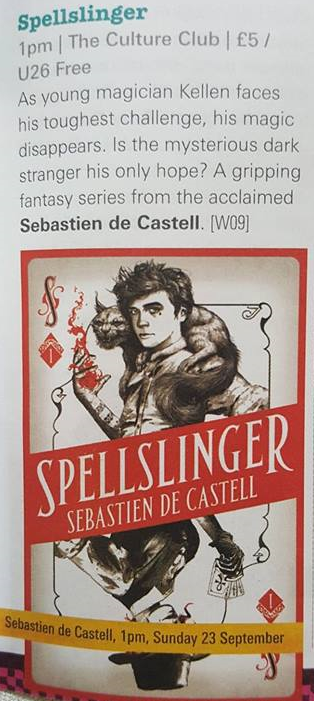 The Culture Club was a small tent next to the Festival Marquee which housed 'WTF' a.k.a. Wigtown: The Festival. It was the young adults tent, free for those aged under 26. I had booked myself to see an event purely because the book looked interesting, I hadn't read it and I had no idea who the author was. I turned up and was a little disappointed to see that there didn't appear to be any people aged between 16 and 25. There was a young boy with his dad and a young girl with her mother, a couple of older people, and a young family being guided around by a tour guide. I sighed, it's an all too familiar scene, maybe it was just this event and maybe the older teens would go to the other WTF events, I wouldn't know, I was due to leave town after Sebastien's talk.
Sebastien de Castell is a Canadian author who has written several books which have been published in fourteen languages and counting. He was a brilliant speaker and I was pleasantly surprised to find that he was questioned on his writing process, a subject which intrigued the author in me. He told us that unlike other authors who like to write out their entire plot before starting a novel, that he writes from a character-centred view point, as though the characters are holding flashlights and shining them onto their world, and whatever they capture is what you, the reader, get to see and learn. He said that authors are often afraid to do this because the danger is, you might write yourself into a corner. He also went onto say that although he loves the Fantasy genre, that fantasy books often contain great big lies. They either promise you that there is something special about you and that you have a hidden talent, or that if you just wait, something incredible will happen, but ultimately that isn't reality. He described his main character Kellen as being the opposite of Harry Potter, Kellen doesn't have great magical ability or talent but it is expected of him. Sebastien wanted to write a main character that was much more like a real, normal person, than the traditional 'special' heroes of Fantasy. I found this concept fascinating as indeed Sebastien is right, usually main characters of Fantasy do have something special about them or something i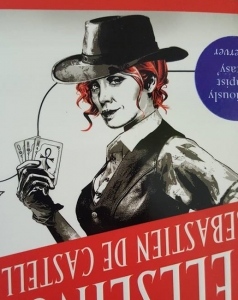 ncredible which happens to them. He talked a little about the cover of his book, in particular the female character who appears upside down on the bottom half of the cover. She is a woman in her late thirties/early forties, and Sebastien remarked that he hadn't really realised before how women aged between 21 and 65 years were noticeably absent from Fantasy novels. Most women in Fantasy tend to be or at least, appear to be, 21 or younger, or 65 and older, but Sebastien decided he wanted to write a female character who sat right in the middle. I found myself agreeing with Sebastien, I hadn't come across any women in the Fantasy genre who were middle-aged and looked it. Sebastien also spoke about his life and school years, where he drew a lot of his inspiration from for some of the scenes and characters in his book.
The more Sebastien spoke about creating characters, worlds and writing, the more fascinated I became and I really wish I had been able to pick his brains and ask him more about his writing process and work. The hour came to an end and I bought a copy of Sebastien's book which he kindly signed for me, and then I left Wigtown and made my way over to Hexham where my uncle, aunt and cousins live.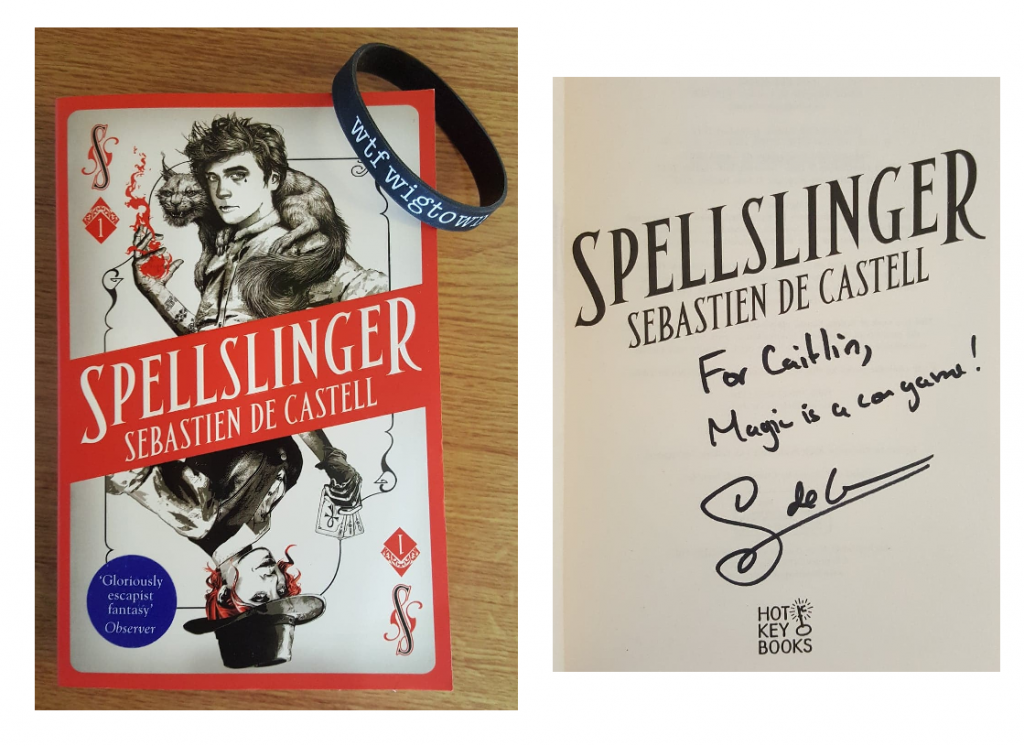 I think the adults enjoyed Tropical Terry more than my cousin did and my other cousin is far too young to understand and spent most of his time being carried around and sleeping on people. I ended up catching a nasty stomach bug from my aunt, and when I returned home on Monday it decided to come out in full force later that night. A couple of days later and an empty stomach along with a few, important, missed emails, and now I'm here writing this blog. Would I go back to Wigtown Book Festival? Absolutely. I may not be keen on large crowds or driving, but Wigtown Book Festival is a good experience, and I forgot, again, to visit 'The Open Book', it's a handy excuse to use in order to go back. There is more than just books and author talks too (though this is the primary focus of the festival), there are other events and there is also a market and a couple of tents selling cakes, gin, jewellery, art, and all sorts of things.
I would definitely recommend staying for more than one night if you can and booking yourself into as many events as you can too. For aspiring writers and new authors it is definitely a good idea to attend some of the author events at Wigtown and I would seriously recommend that young people who haven't yet decided on a career path to attend these events too. Learning about the writing process and the publication industry, or even just how other people have lived their lives is an invaluable resource of experience and information. If you happen to see an author event with Sebastien De Castell occurring anywhere near you then I would highly recommend going along and listening to what he has to say. As for me, this blog has turned into a monster so I'm going to call it a day now. I will leave links to all the important stuff down below.
Happy reading, bibliophiles, and authors – carry on writing!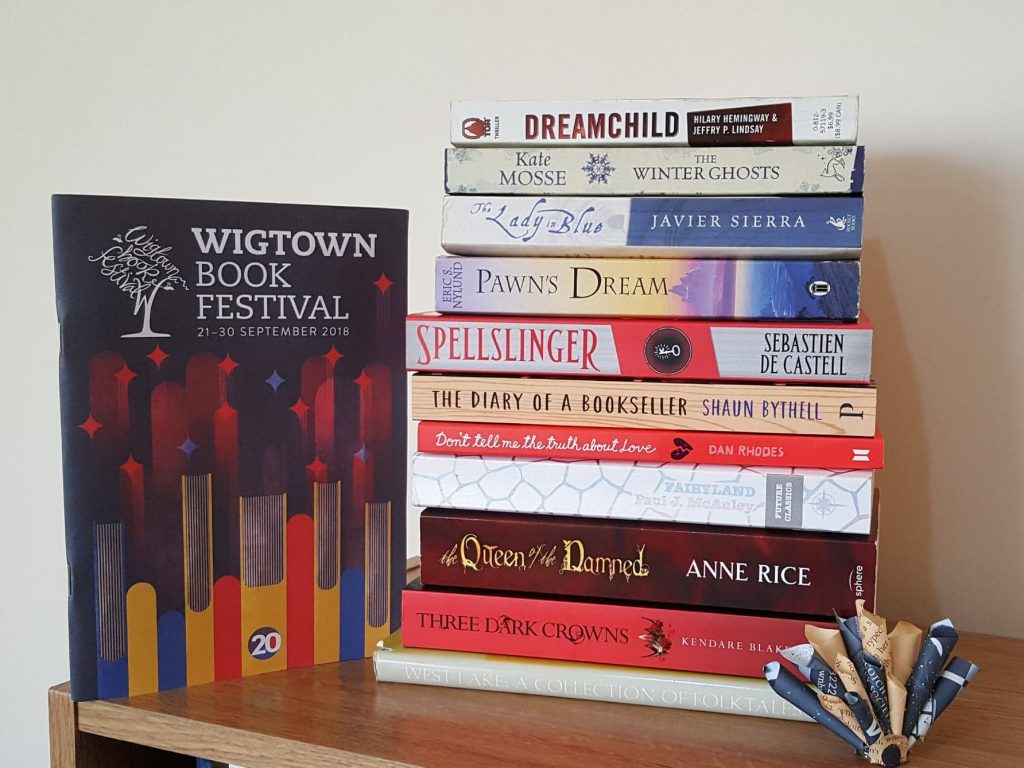 Useful Links:
http://www.wigtownbookfestival.com/
http://www.wigtownbookfestival.com/programme#youngpeoplewtf
https://www.amazon.co.uk/Spellslinger-fantasy-novel-keeps-guessing-ebook/dp/B01MTSTB4D
https://www.facebook.com/thebookshopwigtown/
https://www.amazon.co.uk/Diary-Bookseller-Shaun-Bythell-ebook/dp/B01N134AZG